"The company won the direct contract with the Russian military up to 2020 for production of 8 training simulators based on the currently operated
Crab-M
system, with their further adjustment and commissioning", says the document.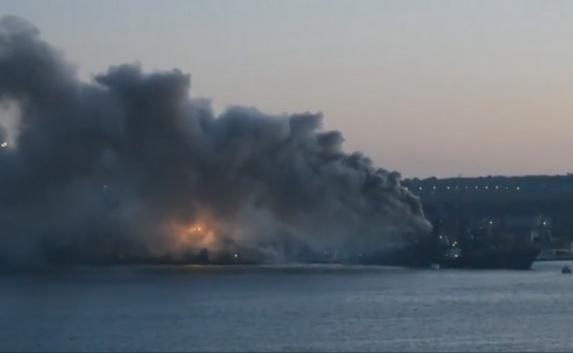 Fire on the Kerch ASW ship
Deputy director for quality assurance at KRIZO, Vladimir Gruzdev, said the simulators would be supplied to the Russian Navy's training centers. They are used to train crews of surface ships and submarines. He added that the company planned to deliver three simulators in 2018. "There are 3 or 4 training centers remained uncovered. We're about to continue supplies after 2020 to have these simulators everywhere", Gruzdev said.
Valery Klimentov, director of the northwest office of NPO Firefighting Automatic Service, the KRIZO's competitor, commented that the fire detection simulators were essential to study the systems in practice, not only by manuals. The company handed over two simulators to the Admiral Makarov State University of Sea & River Fleet about 8 years ago. As for Klimontov, the company is ready to continue deliveries, as its
Gamma
multicriteria fire detection system is used by many Russian surface ships.
In particular, the
Crab-M
shipboard fire detection system will be
mounted
on the currently modernized aircraft carrier
Admiral Kuznetsov
. The contract cost is evaluated at 500 mln rubles. An alternative offer from another supplier cost 200 mln rubles, however, the customer declined it for unknown reasons.
Crab-M
is designed for control of fire hazards onboard the ship, generation of signals to activate firefighting facilities, flame and smoke alarm in protected premises, and humidity monitoring. The system provides the core device or a higher level system with the data on current values of controlled parameters, temperature rise, a fire site, and the system's technical conditions
According the
Kommersant-Kartoteka
informational and analytical portal, the authorized capital of JSC KRIZO is 4.55 mln rubles. In 2017, the company obtained a bank guarantee from VTB to secure the military contract. According to the annual report, the company depends much on the state contracts, as the portion of special products in the overall production volume amounted to 81.9% in 2017 (225.4 mln rubles). The board of directors includes one official from the Ministry of Industry & Trade, Alexander Tumanov, heading the military cooperation unit at the Shipbuilding Industry & Marine Engineering Department. Last year, apart from the
Crab-M
system, the company worked on such products as
Cadmium-R
,
KDS 703-01
,
Cascade-M
,
RCM 50-G
,
MVU 356
,
Segment
,
SBSU-2A
, and
Fakel
.
Over the five-year period, the most significant fire in the Russian Navy occurred in 2014 on board the ASW ship
Kerch
. The firefighting operation lasted one day and one night. The fire destroyed aft engine room and adjacent premises. Being earlier planned to lead the Black Sea Fleet instead of its docked flagship, missile cruiser
Moskva
, the ship was finally cut for scrap.