The Project 23550 icebreaker was designed by the Almaz Central Maritime Design Bureau. The ship will be modular and multifunctional, combining combat, search-and-rescue, and scientific research functions. The project is fully consisted of Russian-made components.
The festive event was attended by the Russian Navy Commander-in-Chief Admiral Vladimir Korolev, the shipyard's vice president Andrei Bystrov, chairman of the municipal industrial policy and innovations committee Maksim Meisin, and director general of the Almaz design bureau Aleksander Shlyakhtenko.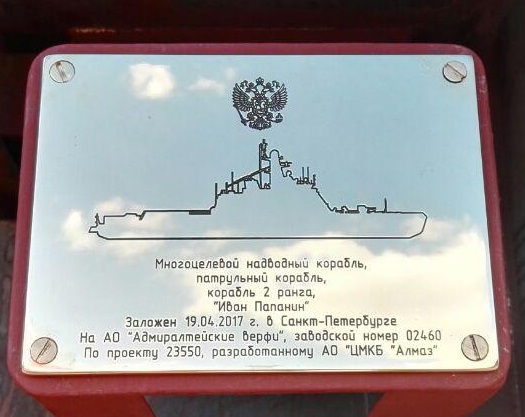 Keel-laying plaque of the Project 23550 ice-class multirole patrol ship Ivan Papanin
Alexei Bulanov, flot.com
According to Adm. Korolev, the patrol ship is built by decision of the defense minister in order to protect Russian frontiers at the strategic Arctic theater. "The ship is named after the famed Russian polar explorer Ivan Papanin. This will commit the crew to serve Russia faithfully", said the Navy commander. The second ship in the series will bear the name of Nikolai Zubov, another outstanding Russian polar researcher.
Admiralteyskie Verfi has a wide shipbuilding experience of such ships, for instance, the
Ilya Muromets
-class icebreaker is under construction as per schedule and currently passes mooring trials, said the shipyard's vice president Andrei Bystrov. He assured the ship would be delivered on time.
The municipal official Maksim Meisin said the Saint Petersburg companies had completed 11 shipbuilding projects last year. "Over 30 projects are being built at the moment. Construction of this ship is a good opportunity to demonstrate the expertise of our shipyards. Wish our shipbuilders stability and good wages", said the head of the city's industrial policy committee. In addition, he expressed hope that number of such projects would grow up.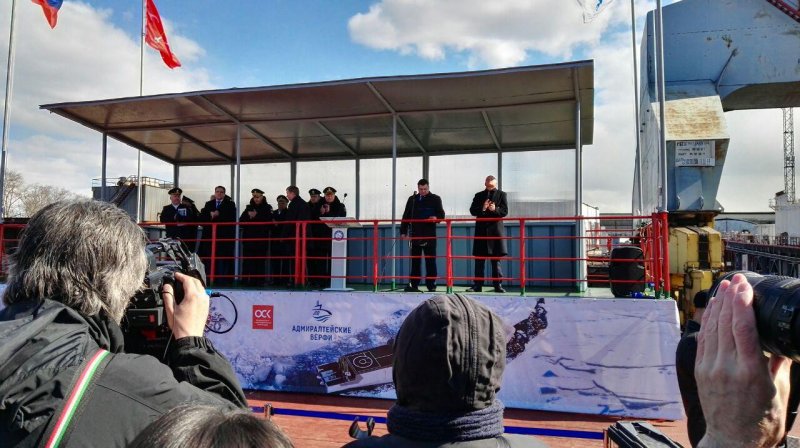 Laying down the keel of the Project 23550 ice-class multirole patrol ship Ivan Papanin
Alexei Bulanov, flot.com
Viktor Chirkov, head advisor to the president of the United Shipbuilding Corporation said the ship was unique. He emphasized the versatility of the project that "will accomplish not only combat tasks but research ones, too, the icebreaker is suitable for search-and-rescue tasks as well". Chirkov stressed that "none of the onboard components is imported".
The Russian defense ministry and the Admiralteyskie Verfi concluded the shipbuilding contract for two Project 23550 icebreakers in May 2016. The shipyard's director Alexander Buzakov told Mil.Today in October that, in fact, the construction of the patrol icebreakers had been already started: the first ship would be commissioned in 2019, and the second one – in 2020.
The Project 23550 ships will be capable to break the 1.5-meter thick ice, armed with the AK-176MA automatic gun mount, equipped with a helipad and a hangar to accommodate a helicopter and UAVs, and two
Raptor
fast-speed attack boats.
The ship's length is 114 meters, beam is 18 meters, displacement is 8,500 tons, speed is 18 knots, operational range is 6,000 nautical miles, endurance is 60 days.