As for him, the shipís trials are underway, while there was a delay caused by the weather. Another insider in the Black Sea Fleet added that
Vyshny Volochek
was around Novorossiysk.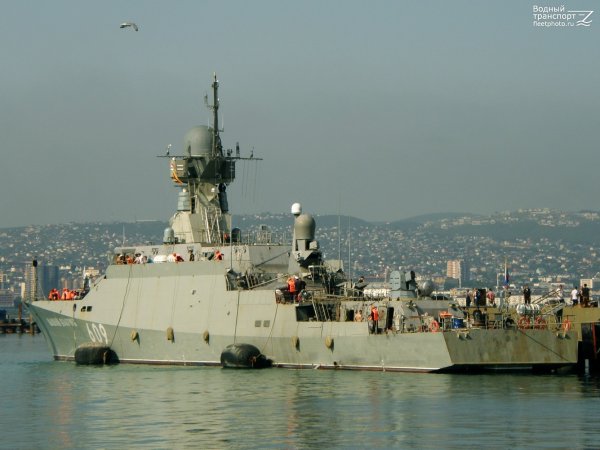 Corvette Vyshny Volochek (Project 21631, codename Buyan-M)
The ship will head for Crimea to hoist the flag. After trials, she will join the Black Sea Fleetís 41st Missile Boat Brigade based in Sevastopol.
The news about the delay was confirmed by an insider at the Zelenodolsk Shipyard, the corvetteís manufacturer. He said anonymously referring to the Navyís services that "something goes wrong with trials timing".
The interviewee added that the shipís commissioning is delayed not due to the shipyard: exact date of the flag-hoisting ceremony would be set by the Navy command after state trials. By the way, he commented that Zelenodolsk Shipyard "has never handed over ships late in December before".
According to the Russian meteorological service, there will be moderate sea off Novorossiysk in the Black Sea; the wind speed will be 2-3 m/sec. Experts forecasts calm sea in Dec 15-17.
In May 2017, the yardís director Renat Mistakhov promised that
Vyshny Volochek
would join the Navy in October.
The ship moved to Novorossiysk via inland waters in August. The shipyardís trials started on September 5. After their successful completion,
Vyshny Volochek
headed for state trials.
Project 21631
Buyan-M
small-size missile ship (corvette) was developed by the Zelenodolsk design bureau. These are multirole "river-sea"-class ships equipped with up-to-date artillery, missile, anti-terror, air defense, and radiotechical systems, including 8
Caliber
missiles. Displacement is 949 tons; length is 75 meters, beam is 11meters. Max speed is 25 knots. Operational range is 2,500 nautical miles; endurance is 10 days, crew is 52 men.