Russian Navy has begun preparations for dives over 400 meters, Capt 1 Rank Damir Shaikhutdinov heading the Navy's search and rescue operations service announced on Friday, November 10. The dives will be performed from salvage ship
Igor Belousov
.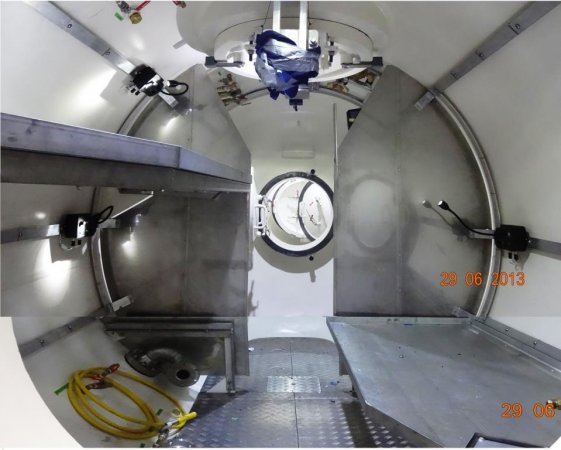 Interior of decompression chamber at GVK-450
The 450-meter diving technology developed by the Russian Navy's research institute for lifesaving and submarine technologies will be tested at sea before 2020. According to Shaikhutdinov, the Russian Navy Commander-in-Chief Admiral Vladimir Korolev will soon approve the detailed action plan.
On October 30, deep-sea divers of the Pacific Fleet's rescue ship successfully performed test dive and left the diving bell setting feet on the seabed at 313 meters.
Anatoly Khramov, the Hero of Russia and director of deep-sea diving systems department at DiveTechnoService called that dive a great success. As for him, such dives should be done more frequently.
"Formerly, they used to do it twice a year, now only once. Regularity of deep dives can and should be increased to let divers get used to depth better", said Anatoly Khramov.
According to him, the point is that Russian deep-sea divers shall "learn systematically and be sure that all systems operate well and such dives are quite safe with a certain proficiency level". Also, Khramov emphasized the significance of construction of Project 21300 first serial ship. "This needs money and must be included in the state arms procurement program", he concluded.
Dr. Viktor Ilyukhin heading the Search & Rescue Technology Development Association told Mil.Today that deep dives at limit depths could and should be done more often, 3-4 times a year.
"Periodicity of saturated dives may be, say, once in two months. Besides, diving teams can be shifted. The more well-trained and experienced divers we have, the stronger we are. God forbid, but if an accident happens, people must be prepared", Ilyukhin believes.
By the way, the expert criticized commissioning of the first Project 21300 rescue ship to the Pacific Fleet instead of the Northern one. "Pacific Fleet already has a rescuer,
Alagez
, providing dives down to 200 meters. Look,
Kursk
sank 17 years ago, but nothing has changed in the Northern Fleet".
The need to dive at deep seas more frequently was also stressed by Valentin Mikhailov, technical director at DiveTechnoService. According to him, in Soviet times a diving team of every rescue ship equipped with deep-sea diving system (GVK) had to dive every 45 days. "That keeps the body physiologically fit. But we had a stronger rescue fleet then, and limit depths were lower, about 160 meters".
If there was no deep dive within 45 days, one cannot reach the same depth without getting used to it, Mikhailov said. He also focused on the need of urgent construction of new deep-sea diving systems and salvage ships.
Project 21300 rescue ship
Igor Belousov
was commissioned in the Russian Navy in December 2015 and arrived at the Pacific Fleet homebase in September 2016.
Project 21300 was developed by the Almaz Design Bureau in St. Petersburg. Ships of this project are intended for crews rescue, supply of air, electric power, and lifesaving appliances to distressed submarines, either bottomed or surfaced.
Igor Belousov
is equipped with the GVK-450 deep-sea rescue system, which is supposed to help divers reach the 450-meter depth and pickup crewmen of distressed submarines with assistance of decompression chambers. Find more details on designing process of the new Russian Navy's rescue ship in the investigation project held by Mil.Today and named
Kursk 2.0
.