Funded by the state program, KAMPO will build fourteen Project 02630 bridge erection boats
BMK-MT
. That information was posted in the company's annual report. The client, Russian Engineer Troops, will get all 14 boats in 2018, the company's adviser to the director general for shipbuilding, Emin Gadzhiev told
Mil.Press Today
.
Director of the Volzhsky shipyard, Vladimir Svinukhov, said in the interview to
Mil.Press Today
that
BMK Bober
had been already commissioned. "The contract signing is in progress now", added the shipyard's director.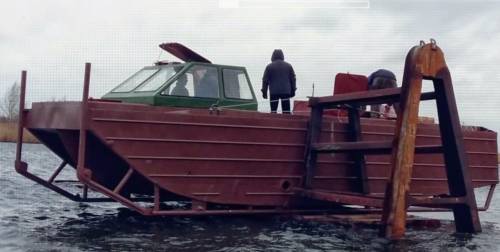 The
BMK-MT
and
BMK Bober
boats were made in accordance with specifications prepared by the Russian Defense Ministry's Engineer Troops Institute. The testbed boat made by KAMPO completed state trials in October 2016, and in a month it was certified as meeting the engineer troops' requirements. The product was assigned code O1. Mass production of the boats began in the summer 2017.
The trimaran-hulled boat made by the Volzhsky shipyard kicked off trials early in 2017. Owing to the hull shape that does not stick to muck bottom, the boat can operate in the shallows. It was planned at the designing stage to use composite materials for the hull construction, however, the customer was unprepared to abandon metal, so the boat has only deckhouse made of composite.
Bridge erection motorboats are used for assembly of pontoon crossings, towage of vessels, cargo transportation, and search and rescue operations, including those in hardly accessible and non-navigable waters. The new models are intended to substitute the older-generation boats
BMK-225
and larger
BMK-460
which production ceased in 90's.