As for him, that deadlines were said at the meetings of the shipyard's directors with the Russian Navy officials.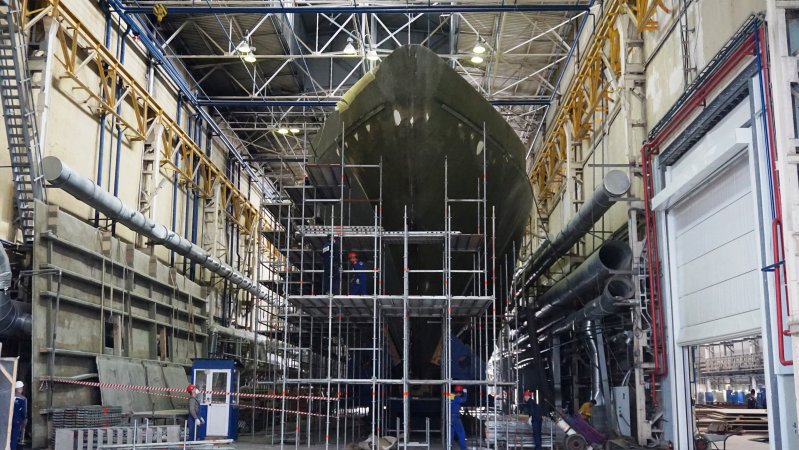 Minesweeper Ivan Antonov under construction (Project 12700 Alexandrite)
Press service of the Sredne Nevsky Shipyard
A well-informed insider at the SNS told
Mil.Press Today
that the
Antonov
's launch scheduled at the end of March depended on the end of the slipway reconstruction. A slipway is a facility used for lifting and setting afloat of ships.
As was earlier reported by the shipyard, upon finishing of the reconstruction, the yard would obtain an up-to date multifunctional lifting/launching system.
During the works made, the wooden ballast basement has been replaced for a concrete one, which would reinforce the soil and thus prevent the ground motion effect; also, the bottom deepening and the slipway underbody strengthening have been completed. To achieve that, about 1,400 piles have been driven.
In addition, the builders began forming of the slope ramp with railways to be a base for a slipway platform. What comes ahead is precommissioning and testing of the slipway system.
According to the shipyard's press service, retrofitting of the slipway would allow for lifting operations with ships displacing up to 2,700 tons, being 100-meter long and drafting 4.5 meters.
The hull forming technology of Project 12700 minesweepers have been completely mastered, so the shipbuilders expect no other serious delays except the ones due to the slipway reconstruction, an engineer of the composite facilities strength and designing laboratory at the Krylov State Scientific Research Center told Mil.Press Today.
As for him, successful assimilation of the composite production at the SNS would speed up the initial construction phase of the mine countermeasures ships. "The next stage is arrangement of the similar production at the Amur Shipyard", added the interviewee.