Jaysh al-Islam declared war on Russia several days ago, writes The New York Times not specifying the date and the source of such information. Reportedly, the Islamists threatened to fight Russia wherever it would appear in Syria, reports
RBC
.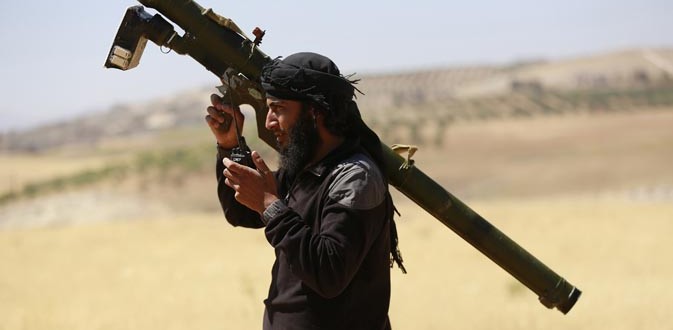 Islamist militant with MANPADS
According to NYT, the group is financed by Saudi Arabia, and takes up positions nearby Damascus.
The fundamentalist opposition to the terrorist organization Islamic State, which is banned in Russia, was established in Syria in the falls of 2013 by the initiative of Riyadh being concerned of the extremists' efforts, reported Reuters. Combatants of Jaysh al-Islam fight both ISIS and Syrian army of Assad's secular government.
Sheikh Zahran Alloush, a leader of Jaysh al-Islam, told to an American publishing company Mc Clatchy in May 2015 that he had 17,000 men under command. According to The Daily Mail, the Army of Islam may amount to 25,000 men and be equipped with armored vehicles including tanks.
Since autumn 2013 Jaysh al-Islam is a part of the widespread islamist coalition named Islamic Front operating mainly in the north of Syria, reported BBC. Members of the coalition stand for sharia-based regime in Syria and have no relevance to the coalition Free Syrian Army supported by Western countries.
Saudi Arabia rejects the possibility to preserve the reign of Assad as he belongs to Alawites, a Shia esoteric religious group considered by Saudi Wahhabis as a heretic branch. Adel al-Jubeir, Saudi foreign minister, said shortly before the Russian military operation in Syria that Assad "must go or be overthrown", stressed the diplomat.
On Thursday, October 1, Saudi representative to UN Abdallah al-Mouallimi called Russia for stopping of military support to Assad.