"Basic element of APAA is a transmit-receive module (TRM). Number of modules varies and may amount to hundreds. Earlier on, each TRM was tested manually, so it took months to test a radar. What we did is completely automated that process", Pavel Maslov, engineer of
Akmetron
told Mil.Today.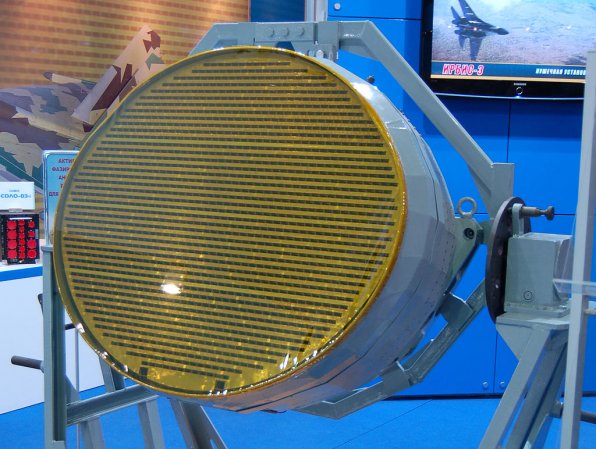 APAA radar for PAK FA aircraft
The TRM automated testing software and hardware system (PAK PPM) allows for simultaneous connection of all TRMs of the APAA and to get full report of all radar parameters within few seconds, said the company representative.
"This testing technique is quite promising. Basic advantages over the manual method are possibility of operations repeat, high capacity and full process automation. This weeds out the human factor and reduces testing time", explained Maksim Sokovishin, a technical expert at
Keysight
, a company producing radio measuring devices. He added, however, the manual testing must not be abandoned as it is needed for particular complex scenarios.
The first prototype of PAK PPM system debuted at the MAKS-2015 air show. Since that time, the company has upgraded the product by increasing the data processing speed and the number of module testing ports.
"There are no analogs in Russia. Similar operating principles are used in R&S®TS6710 TRM Radar Test System and Transmit/Receive Module Test Platform (TRM-X) systems developed by American companies
ROHDE&SCHWARZ
and
Keysight Technologies
, respectively", added Vladimir Izyuryev, a marketing expert at
Akmetron
.
In 2016, JSC
Akmetron
supplied about ten PAK PPMs to Russian defense industrial companies designing and producing ground/air/ship/space-based APAA radars. The company's experts refused to specify models of radars using this system referring to secrecy.