According to him, until completion of the state trials it is prematurely to discuss perspectives of integration with
Yak
training airplanes.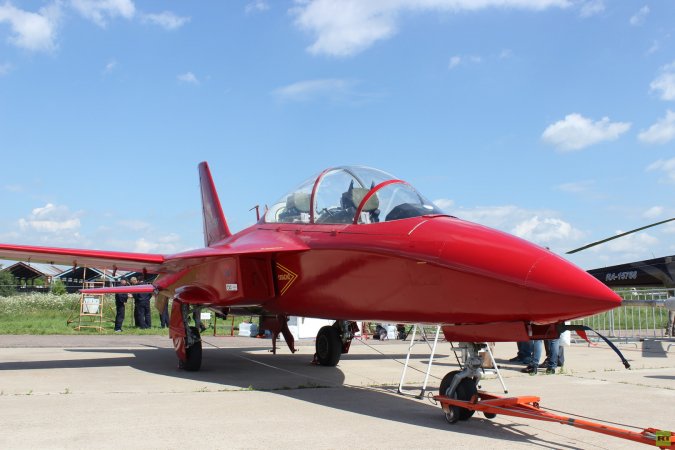 The new Russian pilots training system will include two stages. At first, cadets will practice on
Yak-152
, and then proceed with
Yak-130
. Designers of
SR-10
trainer, Advanced Aircraft Technologies (AAT), offer their jet as an intermediate link between the two
Yak
airplanes.
Basic features of the jet designed by AAT, in particular, avionics, do not contradict its potential integration with the Yakovlev airplanes, test pilot of SR-10 Viktor Korolev told Mil.Press Today. However, final decision is upon the customer, Russian defense ministry, he added.
Vasily Sevastyanov, test pilot at the Yakovlev Design Bureau currently engaged in the
Yak-152
program could not give any comments saying he was not familiar enough with
SR-10
jet.
Wasting budget on another 'flying school desk' in conditions of funds shortage is inexpedient, commented Maj. Gen. (retired) Alexander Akhlyustin, a honorable Russian military pilot in the interview to Mil.Press Today.
He doubted the Russian Airspace Force really needed all tree types of trainers for the first phase of pilots training. On the other hand, the expert believes that cadets should master several planes. "
SR-10
is an interesting project; it may partially substitute the Czech
L-39 Albatros
trainers getting obsolete". Another promising project is an unmanned version being
designed
in a proactive manner, Akhlyustin said. "However, first we should wait until the trials results, and then think of the jet perspectives".
On February 8,
Mil.Press Today
sent AAT an inquiry about the project prospectives, but no response has been received so far.
For reference
SR-10
(stands for "jet aircraft minus ten", meaning ten-degree forward-swept wing) has been created since 2007. The jet is designed for training purposes and aerobatics, also suitable for missions of a light assault airplane. According to designers, it is capable to perform all higher aerobatics at peak overloads from +8 G to -6 G. Airframe design of
SR-10
helps to perform aerobatics with elements of so called supermaneurability typical for 4/4+ generation fighters.
The first prototype was powered by Ukrainian-made AI-25TL engine. For batch production, designers provided for Russian engines AI-55I. Maximum takeoff weight is 2,700 kg, flight range is 1,500 km, service ceiling is 6,000 meters, max speed is up to 900 kph.
SR-10
successfully completed manufacturer's trials in 2017.