While 3D-modelling had become an industry-specific standard, virtual reality came to the Russian shipbuilding in 2010ís. Design bureaus were the first who applied the VR tools.
The Zelenodolsk Design Bureau has selected the
IC.IDO
system developed by French
ESI Group
. According to the companyís deputy director for strategic development Sergey Reshetov, the system provided the premises acceptance based on 3D engines. The software/hardware system helps to solve both designing problems and the issues of ergonomics evaluation of shipboard rooms. The designers say the use of IC.IDO improved the quality of design documentation and reduced time for its amendment.
The Saint-Petersburg company named
NOVIT PRO
has implemented the possibility to combine works in a common virtual space with the model of Project 636.3 diesel electric submarine (
Varshavyanka
class). The mobile project maintenance centers (MPMC) were employed for development of submarine overhaul information models (IM). The company has built two portable stations maintaining operation with IM and 3D models of submarines. The
NOVIT PRO
experts have already given a corresponding training course for shipbuilders of
Admiralteyskie Verfi
shipyard. The MPMC are located in the standard 20-foot containers and designed for 3D-visualisation of a projectís information model and joint work in the virtual space. "Take note, the model is not transmitted anywhere, another point has an access only to its particular model, only actions and voice are transmitted", said the designers.
The Rubin Design Bureau, the
Varshavyanka
-class subs developer, uses 3D-rooms as well, an insider in the company told
Mil.Press Today
. As for him, the company currently operates three facilities of this kind.
The Severnoye Design Bureau (SDB) has also integrated the virtual reality system to create new ships, Alexander Kuzin, the companyís official heading the arms systems sector said at the
ESI
forum.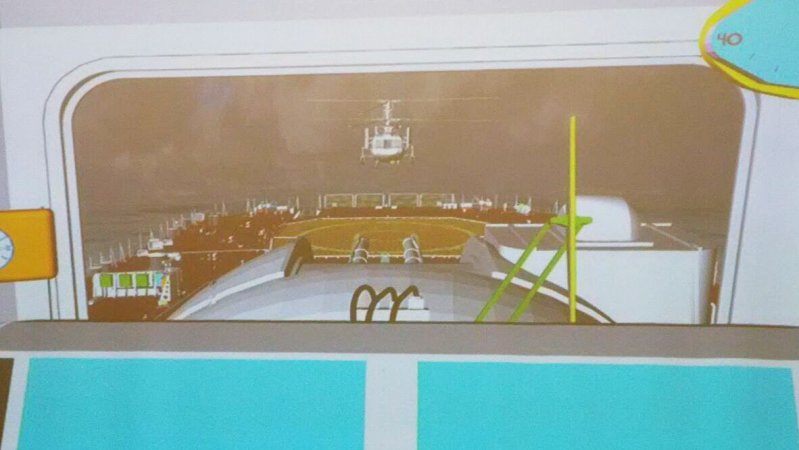 Helicopter deck landing visualized by SDB software/hardware suite for adjustment of designing solutions
Mil.Press Today
The software/hardware suite for adjustment of designing solutions has been operating for nine months at SDB. According to Kuzin, the system helps to test new solutions and mitigate the risk of error. This cuts manufacturing costs and shortens acceptance procedures in ship designing process. An example of the systemís successful operation is visualized and computed landing of a helicopter on the deck of a ship being designed for the Russian Navy. The system costs about 500,000 USD.
According to an industry-related insider heading a department in an IT company, such solutions should be applied not only in design bureaus, but in the shipyards, too, at the ship building and ship repair phases. However, integration of these systems into the shipyards faces conservatism and reluctant departure from the "paper" designing.
In September 2018, French
Naval Group
reported about development of the similar project. Thus, in terms of virtual reality, Russian shipbuilders steer the parallel course with the European counterparts.
Dmitry Zhavoronkov
Have anything to add? Feel free to contact Mil.Press:
+7 (812) 309-8-505, ext. 104
;