"Using the versatile equipment and robotized systems will reduce downtime and repair costs for marine hardware and infrastructure", says technical specification for R&D project. Among core objectives are "damage control and safe operation of marine facilities".
The system, which prototype is to emerge by the end of 2020, will comprise two marine containers: technological and laboratory/transport ones. They will contain equipment for local recovery of anticorrosion coatings, laser cladding of bronze on bearings, life extension of propulsive screws by cladding, anti-corrosion protection of rudder, repair of anchor system barrels, recovery of crankshafts and repair of rudder heads jacket.
"An important reference for the project is the results of Russian and foreign researches in the area of recovery and repairs of marine engines and infrastructure facilities in sea conditions, system studies of maritime technologies and market developments. As it turned out, major scope of repair and maintenance of marine hardware and infrastructure is performed with the use of obsolete, inefficient, time/energy consuming technologies (painting, galvanic coating, electrode buildup welding, etc.)", says the document approved by Sergey Mamonov, deputy director of shipbuilding department at the Ministry of Industry & Trade.
Through installation of repair containers in the ports, the ministry wants to reduce idleness of ships by 20-30% and increase overhaul effectiveness by 2-3 times.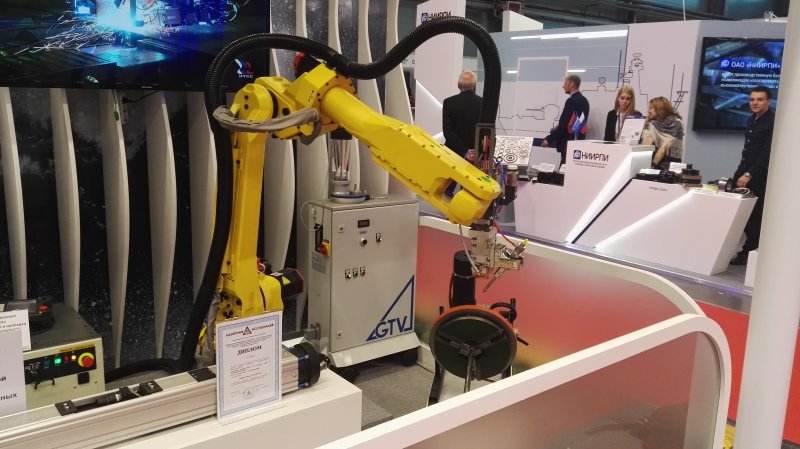 Project of the Shipbuilding and Ship Repair Technology Center: robotized system Finist-S designed for buildup welding of anti-wear coatings on shipís mechanical components
Alexey Bulanov, Mil.Press Today
Although there were no any requirements claimed regarding import substitution for the future container-based system, most of high-end technologies needed for the project have been already developed by Russian industry. "A manipulator, both six-axis articulated (similar to
Kuka
) and linear one, can be fully produced in Russia, excluding servo drives, servomotors and certain electronics. The mechanisms of the size we need are not produced in Russia", Artem Barakhtin, director of the company manufacturing industrial robots
Arkodim
told
Mil.Press Today
. The expert mentioned about recently emerged Russian solutions on laser-type buildup welding.
The Shipbuilding and Ship Repair Technology Center has a turnkey solution on buildup welding of wear resistant coatings on marine mechanisms. At the IMDS-2017, the St. Petersburg company presented the robotized system
Finist-S
based on Russian-made laser and
Fanuc
manipulator. As a demonstration, the engineers showed buildup welding of the high-strength material on a marine engine valve. According to the company, this will extend the componentís service life by 3-4 times.