The P-750B submarine is meant for delivering strikes upon enemy's coastal facilities, destruction of submarines and surface ships. The sub is capable of covert delivery, landing and taking onboard of recon and sabotage groups (up to 16 men). It also can plant mines and conduct reconnaissance.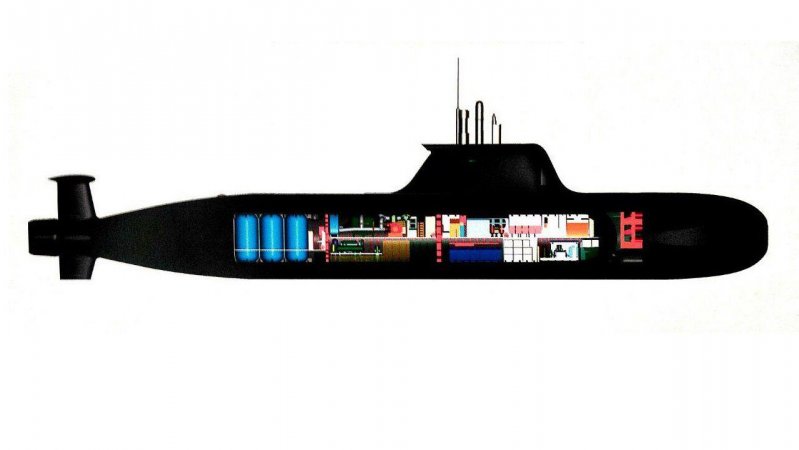 Model of P-750B small-size littoral zone submarine powered by closed-cycle anaerobic gas turbine
Malachite Marine Design Bureau
Among the sub's advantages, designers name advanced weapons, radio electronic aids, high automation level, small crew (18–20 men), maneuverability, acoustic discretion, and shallow/narrow waters operability. Besides, P-750B can be based in the available naval stations and ports.
Displacing about 1,450 tons, P-750B is attributed to the class of small-size littoral zone submarines. Its length is about 66 meters, beam is somewhat 7 meters, draft is around 5.2 meters. Max diving depth is 300 meters. Full submerged speed is 18 knots, cruising one is 4 knots. Endurance is up to 30 days, overall operational range is up to 4,300 nautical miles. Continuous submerged range with anaerobic powerplant is up to 1,200 nautical miles.
The powerplant includes the closed-cycle gas turbine engines (2 x 400 kW) and a 2,500-kW propulsion motor.
Weapons: 533-mm torpedoes, missiles, mines.
The Army-2019 Fifth International Military & Technical Forum will take place in June 25-30 at Patriot Congress & Expo Center, at Alabino Range and Kubinka Airbase. The forum will be open for experts in June 26-27, and for mass visitors in June 28-30.

Mil.Press publishes the news about the exhibition's display in the section Army Forum.
Dmitry Zhavoronkov
Have anything to add? Feel free to contact Mil.Press:
+7 (812) 309-8-505, ext. 104
;