The optoelectronic system includes the thermal imaging unit with cooled 3-5 micron matrix, television unit and the laser rangefinder/illuminator
HTEB.461321.011
produced by
Quantum Optics
.
The system features the four-axis gyrostabilization with accuracy of 10 angular seconds. The demand for such parameters is dictated by the need for the stable target illumination for military aircraft and guided weapons.
The optoelectronic system is capable to detect the tank-class target at the distance of up to 18 km, and certainly identify it at 8 km.
Weight of the system is 32 kg. The two-wave laser rangefinder/illuminator weighs 2.4 kg.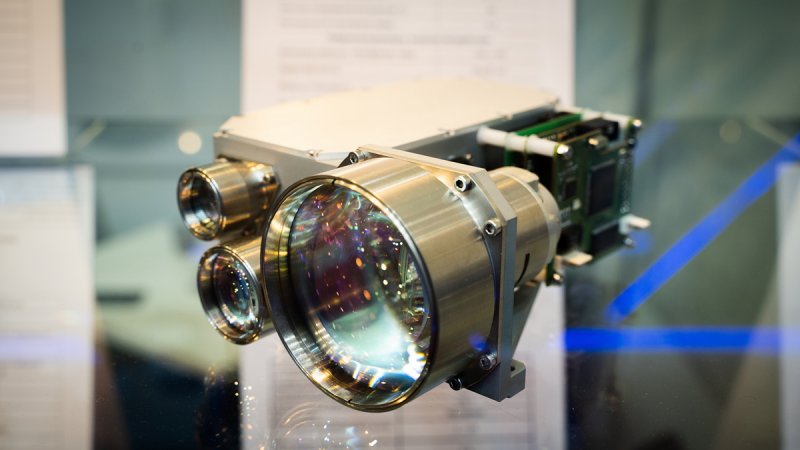 Laser rangefinder/illuminator HTEB.461321.011 at the Quantum Optics' booth
Andrey Sergeev, Mil.Press Today
Currently,
GOES-4
is passing preliminary trials. In July, the system's developers expect the working documents will be assigned classification letter "O".
UAV
Forpost
is a localized version of Israeli drone
Searcher Mk II
designed by
IAI
. The "R"-lettered modification is to carry electronic intelligence and data broadcasting facilities.
The Fifth International Military & Technical Forum Army-2019 closed on June 30. It took place at Patriot Congress & Expo Center, at Alabino Range and Kubinka Airbase. In June 26-27, the forum was open only for experts, and in June 28-30 it welcomed mass visitors.

As a priority partner of the exhibition, Mil.Press publishes overviews of the novelties and business events in the section Army Forum.
Valery Butymov
Have anything to add? Feel free to contact Mil.Press:
+7 (812) 309-8-505, ext. 102
;