Supervised installation of the first import-substituted product was held in September 2018 on the second patrol ship of this type,
Petropavlovsk-Kamchatsky
, being built by Zelenodolsk Shipyard (member or
Ak Bars
holding).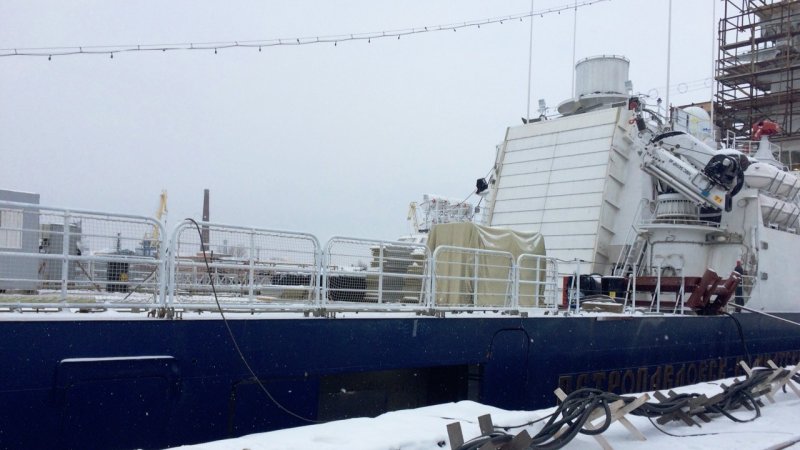 Retractable gate for Project 22100 patrol ships designed and produced by Vineta Machine Building Plant
Press service of Vineta Machine Building Plant
According to the ship's designer, the question is replacement of the products made by Dutch company
Mafo
. While the lead ship,
Polyarnaya Zvezda
, has foreign-made gate, all further patrol craft of the series will be equipped with domestic ones. Thus, this element of the helicopter hangar has become Russian.
"The gate is based on the Russian technology and equipment, and made by
Vineta
, a local company from the Leningrad Region", added Leikis. "Everything operates perfectly; the fully-equipped ship has already passed mooring trials, now we're preparing for the shipyard's ones. The product is up-to-date and meets all appropriate requirements", he said. Based on the tests results, the gate has been commissioned by the Russian Armed Forces. As is planned, the new retractable gate is to be mounted on Project 23550 patrol icebreakers as well.
Sergey Vlasov, an advisor to CEO of Nevskoye Design Bureau told Mil.Press Today that their ships were equipped only with Russian-made retractable gates. He emphasized the importance of using the national components.
"The gate constitutes a U-shaped guide frame that consists of two vertical (left and right) and a top beam, retractable bars, an electric motor, and a hand drive", the press service of
Vineta
machine building plant reported to
Mil.Press Today
. "Opening and closing is performed through vertical sliding of bars driven either by electric motor or manually".
"The gate is adapted for severe weather conditions, including polar latitudes", shared Konstantin Sidorenko, the project designer and head of the heat exchange equipment sector at Vineta. "The telescopic-type enclosure works at low temperatures, too, cleaving up to 60-mm thick ice. Also, it is equipped with electric and mechanical protection systems".
The gate is designed to withstand the wave load of up to 10 kN/sq m (1,000 kg/sq m), ensuring heat insulation and occupying minimal space in the opened position. The box-shaped section of the bars provides for an air clearance that reduces moisture condensation inside and ice coating outside. The lowest bar has a special rubber seal that makes hangar air-tight and pins that fix low position of the gate enclosure, and is connected to the chain drive for lifting and lowering.
For reference
Project 22100
Ocean
-class coast guard patrol ships are designed by Almaz bureau by the order of Russian FSB Border Guard Service, and being built by Zelenodolsk Shipyard. The lead patrol ship,
Polyarnaya Zvezda
, was keel-laid on May 5, 2012, launched on May 21, 2014, and commissioned on December 17, 2016. The first serial ship,
Petropavlovsk-Kamchatsky
, was keel-laid on June 15, 2015, launched on June 1, 2018, and is planned to join the Border Guard Service by the end of 2019. The third ship laid on April 28, 2017 was named
Anadyr
.
Ocean
-type patrol ships have Arc4 ice class, their standard displacement is about 2,700 tons, max speed is 20 knots, operational range is 12,000 nautical miles, endurance is 60 days.
Dmitry Zhavoronkov
Have anything to add? Feel free to contact Mil.Press:
+7 (812) 309-8-505, ext. 104
;