The said unmanned multicopter is based on the four-rotor layout. According to the manufacturers, the vehicle can lift up to 3,000 meters, having operating radius at least 5 km and straight-level cruising speed of 60 kph.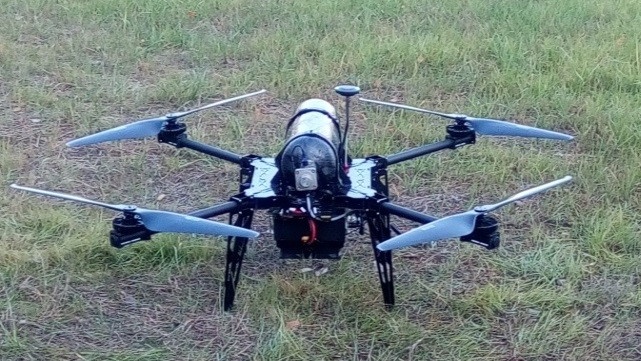 The drone is powered by a hydrogen fuel cells unit. The company's head designer says the unit ensures a 3-hour flight for a 10-kg vehicle and even more. For drones with larger takeoff weight, several HFC units are used together. Such layout is applied in the helicopter-type UAVs with 30-kg takeoff weight shown at the
Army-2018
forum.
Also, at the last year's forum, engineers of OANS presented a device filling a flask with hydrogen in the field conditions without any special infrastructure. To that end, one needs to place a metal-hydride cartridge inside the said device and add water. The result of the chemical reaction is hydrogen.
An expert in hydrogen energy at one of the Russian research centers explained
Mil.Press Today
that the afield hydrogen production technology had been already mastered abroad. For instance, in Singapore, similar unmanned systems are produced by
HES Energy Systems
.
"This is an interesting and promising technology, though there are some problems. Example, sodium borohydride. Among advantages is acceptable price, stable alkaline solutions, and fairly large amount of hydrogen produced in hydrolysis. However, being decomposed, it may form diborane, a volatile toxic borohydride. It is very poisonous, plus may spontaneously inflame if contacts with the air", said the expert.
The
Army-2019
international military and technical forum will take place in the Patriot Military Park in June 25-30. All announcements of the newest showpieces and the business events of the exhibition are published in the
Army Forum
thematic section.
Valery Butymov
Have anything to add? Feel free to contact Mil.Press:
+7 (812) 309-8-505, ext. 104
;