According to one of them, the USC-affiliated bureaus have wide designing experience in such kind of ships. For instance, Zelenodolsk Design Bureau has created the PFS family based on its Project 1806 codenamed
Zvuk
. Another example is Vympel Design Bureau that made the Project 1799E degaussing and magnetic/sonic field control ship based on Project 1799 codenamed
Globus
.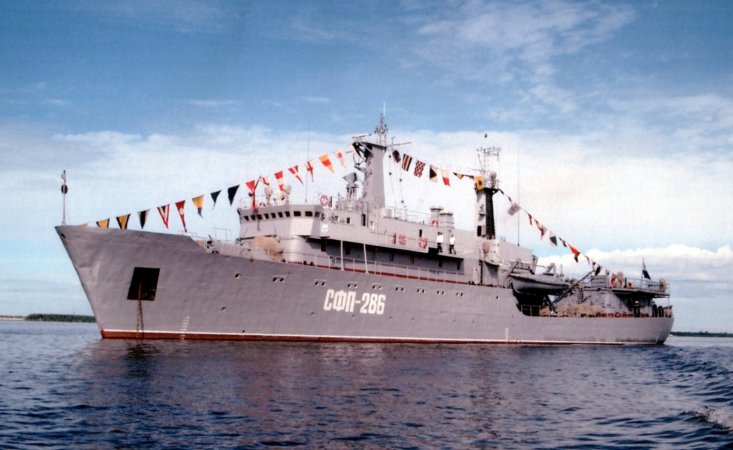 Northern Fleet's PFS Mikhail Lomonosov (before 2010, named SFP-286)
However, Zelenodolsk Design Bureau is currently heavy with orders, so the work was assigned to Vympel bureau, added the interviewee.
The second insider said the works were still at the conceptual phase: "Over the last years, Vympel has been actively designing auxiliary ships, so it is skilled enough to deal with that task".
An ex-officer who used to serve on a PFS ship at the Baltic Fleet told Mil.Press that the upgrading of such ships was a long-pending need. The research units concerned with physical fields, however, have been closing up since late 80'ies, both in academic and naval institutions. "They have reduced the staff dramatically: heads of ship protection services, lab experts, engineers of degaussing and physical field ships – they're all history", said the former officer. "What claims a special attention is the physical field protection service that ensures, among other things, the ship's stealthiness for enemy sensors and non-contact weapons".
Earlier in 2019, the industry insiders shared with
Mil.Press
that Russia had started designing a new degaussing vessel for the Navy.
Project 1806 physical field control ships and their modifications, as well as Project 1799 degaussing ships had been constructed since 70'ies. Mass production of these vessels was shut down in early 90'ies.