"Today, on November 9 at 06:50 a.m. in the east Mediterranean, the hunter-killer group including destroyers Severomorsk and Vice-Admiral Kulakov found a diesel electric submarine of the Royal Netherlands Navy (allegedly, Walrus-class) trying to approach for tracking of the Northern Fleetís carrier group", reported
TASS
citing Gen. Maj. Igor Konashenkov.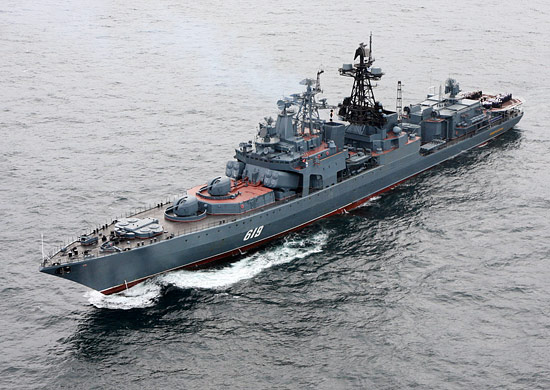 Russian Navy's destroyer Severomorsk
"Despite the subís attempts of maneuvering, she fell within a steady sonar contact. Russian ships had been tracking the submarine for over an hour when finally made her leave the deployment zone of the Russian task force", detailed Konashenkov.
According to the military spokesman, the destroyers spotted the sub 20 km off the carrier group by sonar systems and ASW helicopters Ka-27PL. As was officially reported, Project 1155 (Udaloy-class) destroyers like Severomorsk and Vice-Admiral Kulakov are equipped with the Polinom underkeel sonar capable to find submarines within the 50-km radius.
During the carrier groupís deployment from the Barents Sea to the Mediterranean, the ships once registered the presence of a US Navyís Virginia-class submarine, said the general.
Foreign media says the Russian Navyís task force is backed by subs: two nuclear-powered ones (allegedly, Schuka-B class) and a diesel electric one (allegedly, Paltus class).