All these fires were caused by either repair or disposal works on the atomic subs. In 2013, fire teams were sent to the Zvezda shipyard in the Far East, where SSN
Tomsk
was under technical recovery. The fire broke out during welding works with burning of inter-hull heat/sound insulation material between the outer casing and the strength hull. Fifteen military servicemen taking part in the firefighting activities suffered.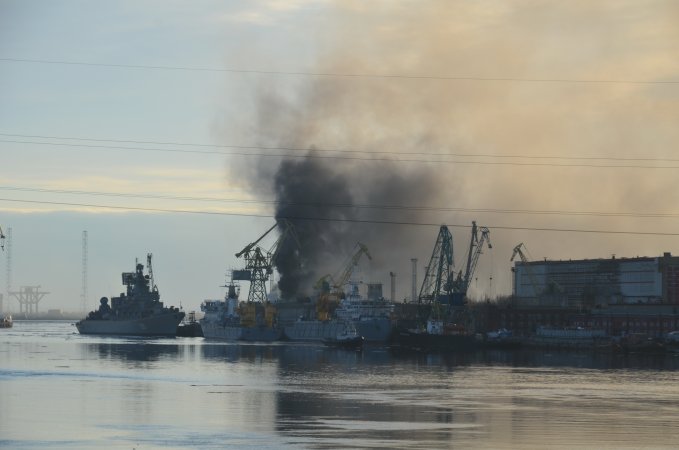 Fire on SSN Oryol on April 7, 2015
Seven months later, in April 2015, her sister sub SSN
Oryol
inflamed in lift basin at the Zvezdochka Ship Repair Center (Severodvinsk, Russia). The fire extinguishing operation took about 10 hours and needed partial flooding of the submarine. Neither the sub crewmen nor the shipyard's workers suffered.
Finally, on April 27, 2016, the fire happened at the North East Repair Center on the disposed SSN
Krasnoyarsk
(Project 949A). The shipyard representatives said the accident was "no big deal", and officials of the Far East Shipbuilding & Ship Repair Center even called the fire "a drill".
Project 971
Schuka-B
nuclear submarines hold the second position in terms of fires happened in the recent decade. Disposed SSN
Ak-Bars
was on fire in Severodvinsk in 2010. Cable routing ignited during hot works, and smoke blanketing occurred. All shipyard staff was timely evacuated, and the troubled section was flooded.
Two years later, vapors of alcohol/acetone mixture used for equipment drying ignited on the same-type SSN
Gepard
in Gadzhiyevo. An employee of the 10th Ship Repair Plant suffered in the accident; his left hand and left cheek were smoked.
Fire accidents also happened at the Zvezdochka shipyard to nuclear submarines
Kazan
(Project 667A),
Orenburg
(Project 667BDR),
Yekaterinburg
(Project 667BDRM),
Simbirsk
(Project 941),
B-298
(Project 671RTM) are widely known as well.
Totally, in accordance with open source data, there were at least nine fires happened to nuclear subs at Russian shipyards throughout the last decade.