According to the source, the shipborne fighters Su-33 are currently equipped with the SVP-24 specialized computer subsystem helping to use common unguided high-explosive bombs with the accuracy of guided weapons. The system's manufacturer, Gefest & T, confirmed the works are in progress.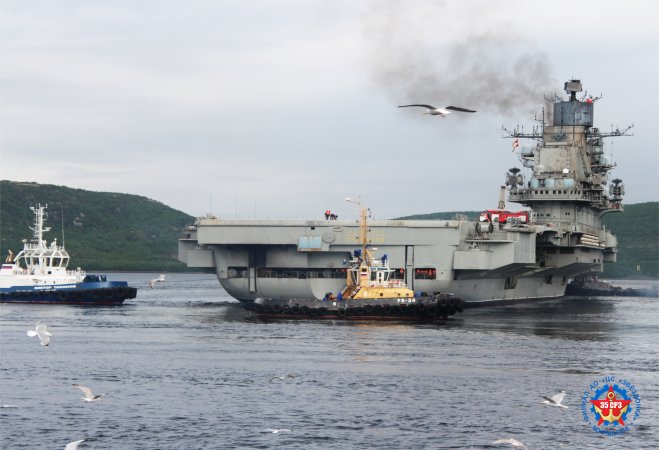 Aircraft carrier Admiral Kuznetsov towed in the harbor of the 35th Ship-Repair Plant
Press Service of the 35th Ship-Repair Plant
As a reminder, the aircraft-carrying cruiser
Admiral Kuznetsov
is being currently retrofitted and recovered at the 35th Ship-Repair Plant in Murmansk. When the works are finished, the ship will head for the Northern Fleet's training ranges in the Barents Sea for trials, where the crew and the air wing will test new shipborne systems that had already passed pre-trials in July.
According to plans of the Russian Navy's command, the task force led by
Admiral Kuznetsov
will be deployed in the Mediterranean Sea in October 2016.
Admiral Kuznetsov
is the Project 11435 heavy aircraft-carrying cruiser, the only ship of this type in the Russian Navy. Upon her return in 2017, the ship will undergo overhaul. As is expected, the repair will be done by the Zvezdochka Ship-Repair Center. The terms of the ship alteration have not been defined so far. According to Aleksey Rakhmanov, head of the United Shipbuilding Corporation, modernization of the carrier will take two years; however, the scope and deadlines of works may vary, he warned.