"The works on the ship will begin upon her return from the Mediterranean mission in the first quarter of 2017 and will last two or three years", said the interviewee.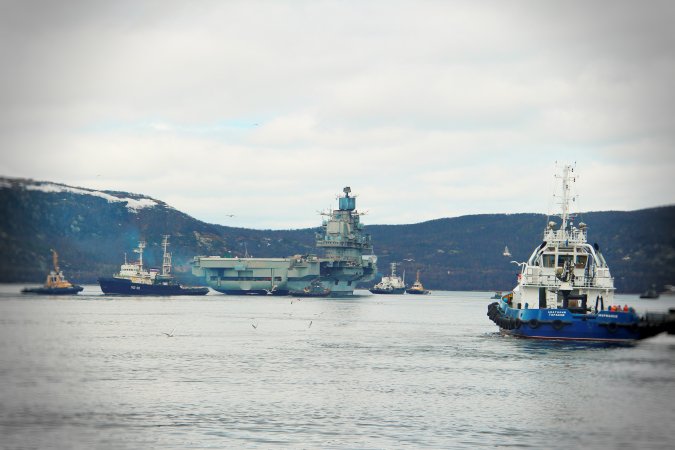 Aircraft carrier Admiral Kuznetsov being towed for repairs
35th Ship Repair Plant of the Zvezdochka Ship Repair Center
According to him, the billions-roubles contract under technical project by the Nevskoye Design Bureau for overhaul and modernization of the carrier is ready and will be signed in June.
It still remains to be seen where the ship would be refitted. The insider said the Sevmash shipyard and the Zvezdochka Ship Repair Center were among the tenderers.
"The greater focus will be placed on upgrade of the flight deck, including replacement of coating, breaking machines, arresting gears and other components of takeoff/landing system", emphasized the source.
The composite air wing of
Admiral Kuznetsov
will comprise Su-33 and MiG-29K/KUB airplanes; Ka-27, Ka-31 and Ka-52K helicopters (initially designed for
Mistral
-class helicopter carriers). Su-25UTG airplanes will no longer be stationed on the ship.
Presently,
Admiral Kuznetsov
stays at the 35th Ship Repair Plant in Murmansk. The carrier is to take the sea after repairs late in June.
According to Sergei Shoigu, Russian defense minister, trials of the renewed air group will start after July 1.
A military diplomatic source said early in April that in the coming falls
Admiral Kuznetsov
will head for eastern part of the Mediterranean Sea having onboard new ship-based fighters MiG-29K/KUB that had never been stationed on the carrier before.