According to
Lenta.Ru
, that offer was made by the Russian delegation visited New Delhi last week.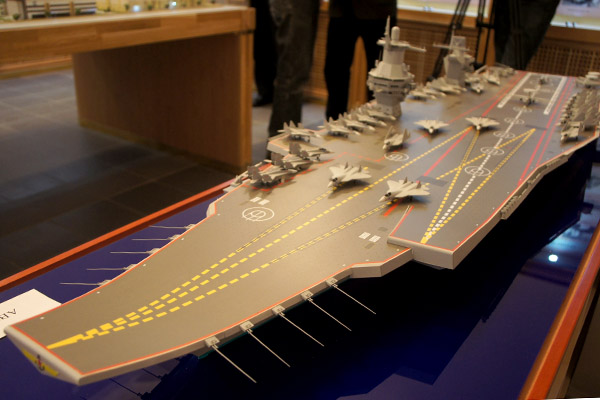 Model of the Project 23000 Storm aircraft carrier
The RITM-200 integrated reactor plant designed for new-generation Project 22220 nuclear-powered icebreakers was selected as a power plant for perspective Russian aircraft carriers. Its key feature is fuel enrichment level of uranium-235 reduced to 20% (from 40 - 90% that had older generations of nuke power plants). This will help to export such reactors not violating any non-proliferation agreements.
So far, the Project 23000 aircraft carrier (
Storm
class) exists only as a model that was for the first time demonstrated by the Krylov State Scientific Center in 2015. The ship's concept was jointly developed with the Nevskoye Design Bureau.
The carrier's displacement will be up to 100,000 tons, length – up to 330 meters, max speed – 30 knots. The ship is going to accommodate 80-90 aircraft.
As was reported late in June, technical designing of the
Storm
-class prospective aircraft carrier for the Russian Navy would start in 2020, and the ship would be built not earlier than 2030's.