Vice Admiral (retired) Gennady Polyukhovich, ex-commander of a Project 671
Yorsh
submarine says life rafts are cumbersome and normally located inside the sub, so it is always a big problem to get them out. Thus, it can be done only on surface or in low-buoyancy position.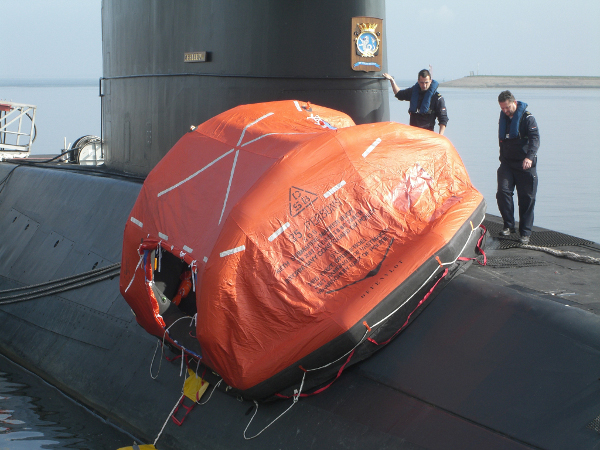 "Even if the crew managed to launch the rafts out, it was only afloat, perhaps, at the brief surfacing. By the way, the rafts must have some signs of human presence like unpacked life-support containers", said the ex-submariner.
Capt 1 Rank Sergey Kubynin being interviewed by Mil.Today assumed that the crew could eject neither life rafts nor emergency buoy, otherwise they would have been already found. Even if the buoy was launched somehow, it was too deep and the rope was not long enough to let the buoy surface. The buoy's depth is also related to the capability of submariners' personal life-saving aids; most likely, they allow the crew to escape from 100 meters, not deeper. "Even being cut by the storm, the buoy is noticeable for aircraft. A different matter is when it failed to eject for some reason, or the crew had no time to do that", the expert said.
He agreed that the
Santa Cruz
-class subs might let out the life rafts only from surface position. "I'm sure they were heading from Ushuaia to Mar del Plata on surface. Their task was simply to get from one point to another, nothing like reach the range for combat training or practice diving", said the officer.
Kubynin offered his own narrative. In the light of reports on faulty batteries, he assumed the short circuit in batteries, battery breakers, which caused the vast fire. According to him, the Santa Cruz-type diesel sub with few compartments may burn out very fast.
"Even if the crewmen managed to throw the rafts, they might have no chance to jump on them, especially in the gale", said the expert. "That happened to our sub,
Komsomolets
. They dropped the liferafts, but people could not get on them. In a heavy fire, hull openings burn out, and the sub sinks in half an hour".