As for him, the ship that continues state trials has returned to
Severnaya Verf
shipyard powered by only one engine after a breakdown happened on December 23, 2017. The source did not report any further details.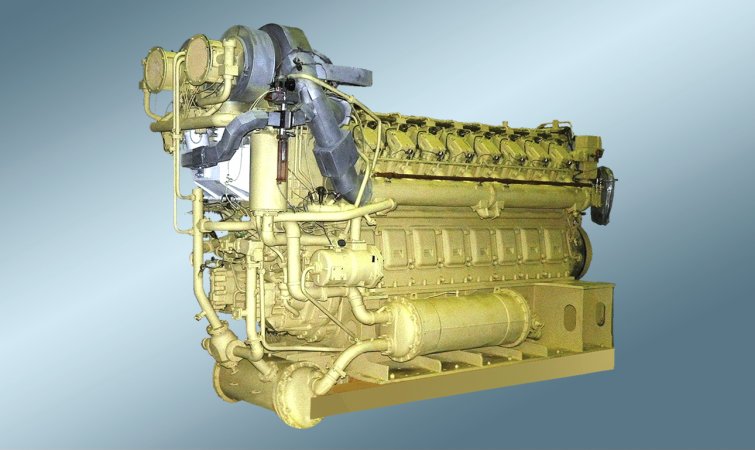 Marine diesel engine 10D49
Made by
Kolomensky Zavod
, 10D49 is a cruising engine for one of the two M55R diesel/gas turbine units. According to a source in the Russian defense industry, there are no any problems with the gas turbine booster or the Ukrainian-made reduction gear.
Experts of
Kolomensky Zavod
are repairing the diesel in the engine room now, an insider in
Transmashholding
, a parent company told
Mil.Press Today
. As for him, the works are conducted by stages, so there are no plans to cut the shipís hull.
Some parts of the 10D49 engine are sent to the manufacturing plant for revision and overhaul or replacement, if needed. The crankshaft components will be returned to the plant as well.
"The special board has already drafted the malfunction report for the 10D49 engine. Itís too early to speak of the reasons, that will be published later on this month", the interviewee told
Mil.Press Today
.
Evgeny Lerman, an advisor to director of Zvezda PJSC assumed the reasons for the breakdown could be either a production defect or an operational error. As for him, the following frigates in the series will be supplied with reduction gears produced by Zvezda, along with gas turbines made by NPO Saturn.
An engineer of Ukrainian
Zorya-Mashproekt
told
Mil.Press Today
in confidence that his company had no official contacts with Russia. Informal contacts are possible though, he added.
Last Wednesday, Feb 7,
Mil.Press Today
sent inquiries to
Kolomensky Zavod
and
Severnaya Verf
shipyard regarding the issue of the
Gorshkov
ís cruising engine.
The shipyard's press service replied on Monday, Feb 12, that the question should have been addressed to the engine manufacturer.
The next day after the accident, Dec 25, Mr. Ilya Zhitomirsky heading the Information Policy & Corporate Communications Department at United Shipbuilding Corporation (USC) told
Mil.Press Today
that the shipís commissioning had been rescheduled for 2018. That was agreed with the client, he added.
Aleksey Rakhmanov, the USC president, announced on February 2 that in case of the trials schedule compliance frigate
Admiral Gorshkov
would be handed over to the Navy in August.