According to a well-informed insider in the industry, service life of the eight new boilers will last 25 years. The military refused from the deep modernization of the boilers, added the interviewee.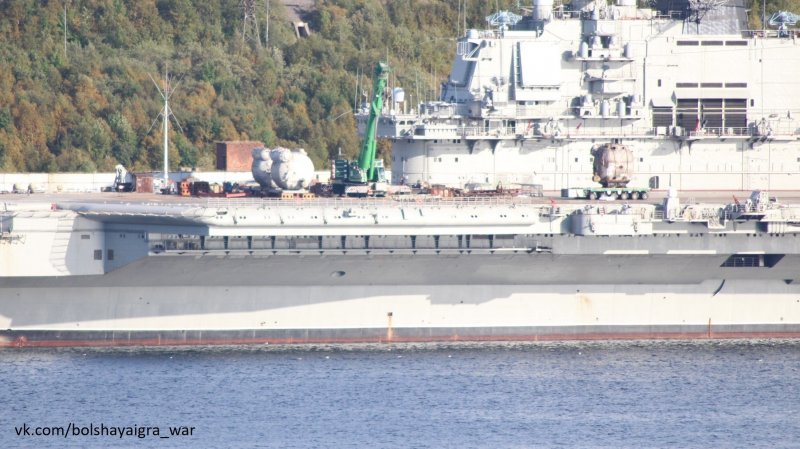 Boilers KVG-4 onboard Admiral Kuznetsov aircraft carrier
Anonymous representative of the Northern Fleet shared with
Mil.Press Today
that mounting the boilers on the ship would be performed along with docking.
Old boilers of the aircraft carrier were produced by Chernomorsky Shipyard in Nikolayev, now they are replaced by analogous Russian ones under the import substitution program. The similar boilers KVG-3 for Indian carrier
Vikramaditya
were made by Baltiysky Zavod.
The Type KVG-4 high-pressure vertical water-tube boiler with natural circulation and turbocharged blast into furnace was designed by JSC Special Design Bureau for Boiler Engineering in St. Petersburg. In 2011, the company offered the Navy an upgraded version of boilers for the aircraft carrier, KVG-6M-1, however, the military showed no interest.
First commander of the carrier, Vice Admiral (Ret.) Viktor Yarygin, expressed doubts regarding reliability of the boilers: "Just take a look at statistics, for example, similar boilers on the Project 956 destroyers. Those ships were on mission rarely due to permanent breakdowns. The similar situation was on Kuznetsov and on Project 1143.4 carrier (laid down as Kharkov, then renamed into Baku, afterwards named in honor of Admiral Gorshkov, retrofitted and sold to India – editorial remark)".
One of designers involved in development of the boilers for
Admiral Kuznetsov
carrier told
Mil.Press Today
that, apart from design defects, the incompetent handling of the boilers by the crews should be borne in mind as well. For one, using of sea water for boilers servicing instead of distilled one. However, Russian Navy's ships are not equipped properly enough to generate sufficient amount of desalinated water.
For reference
Admiral Kuznetsov
carrier was built under Project 11435. The ship was commissioned in 1990, five years after launching at the Chernomorsky Shipyard.
Length of the aircraft carrier is 306 meters, max beam is 72 meters, full displacement is 59,000 tons. Except for the air group (Su-33 and MiG-29K fighters, Ka-52, Ka-29 and Ka-27 helicopters), the carrier is armed with P-700
Granit
antiship missiles,
Klinok
and
Kashtan
air defense systems.
The contract for repairs and modernization of the ship was signed in April 2018 and is performed by 35th Ship Repair Plant (member of Zvezdochka Ship Repair Center). Cost of works is evaluated as 60 bln rubles. The project is to be completed by the end of 2020, and after the 7-month long trials the ship will be re-commissioned in the Russian Navy in 2021.
Dmitry Zhavoronkov