Today,
Mil.Press FLOT
is the only Russian-language outlet hitting
Alexa
's Top 50 rating.
"Dynamic growth of
Mil.Press
traffic and our ranking is connected with the methodical work on increase of number and sophistication of exclusive materials daily published by the editorial. In contrast to most of industry-oriented military media,
Mil.Press
transparently posts its visiting statistics. Since the year's beginning, almost 4 millions of visitors have read our materials, and views number has exceeded 10 millions", shared Sergey Sochevanov,
Mil.Press
head editor.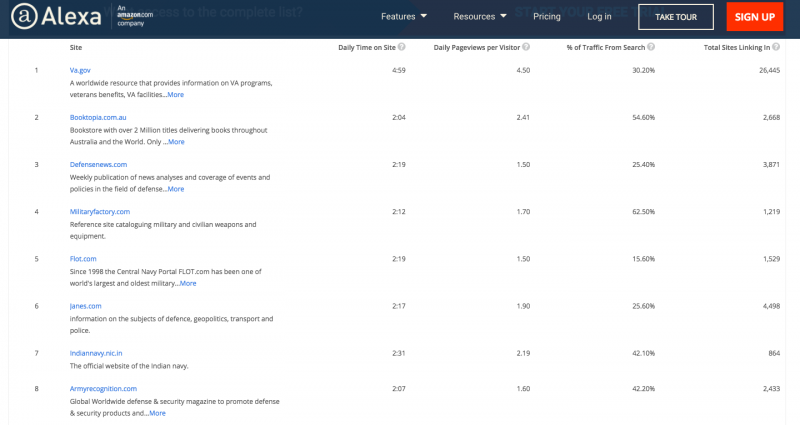 Alexa rating as of 10.10.2018
Also, the media group develops and promotes its English version,
Mil.Press Today
, into global ratings. It is aimed at stimulation of demand for Russian military and dual-use products at external markets.
Mil.Press Today
offers unique materials prepared by the staff correspondents.
Except for visiting statistics and rating positions, the defense industry development department at
Mil.Press
monitors reaction of the top-ranking officials on published materials. The annual report "Reaction", which
Mil.Press
presents by partners' requests, includes confirmed cases of corrected violations of military service in the Russian Armed Forces, amended resolutions regarding state defense orders, commissioning of innovative weapons that followed after publications of articles and news.
Mil.Press
is a military media with the 20-year long history. Periodicals of the media group are leaders of the sectoral press in terms of citedness, coverage of defense exhibitions, and the audience size. Core websites of the media group are Mil.Press Voennoe – Information Agency (
Voennoe.RF
) with staff correspondent network, Mil.Press FlotProm – Marine Defense Industry (
FlotProm.ru
), Mil.Press FLOT (
FLOT.com
) and Mil.Press Today (
Mil.Today
), a daily English-language online periodical about Russian military and defense hardware. See more details on
Mil.Press
.