The works are financed by the Russian Ministry of Industry & Trade. Late in October 2018, the ministry gave the contract for development of the project named
Slamming-Vodozabor
to the St. Petersburg State Maritime Technical University (SMTU) for 340 mln rubles. The tender was also attended by JSC
Okeanpribor
that offered to perform the works for 344.7 mln rubles. Later on, SMTU announced procurement of the project component,
Slamming-Vodomet-DM
, from a sole supplier. In December, the university tied the 204-mln contract with
DM Technology
. As a result of cooperation between the ship-design university and the Moscow company, Russia will obtain 0.115MW, 0.5MW and 1.5MW water jets with diagonal blading system.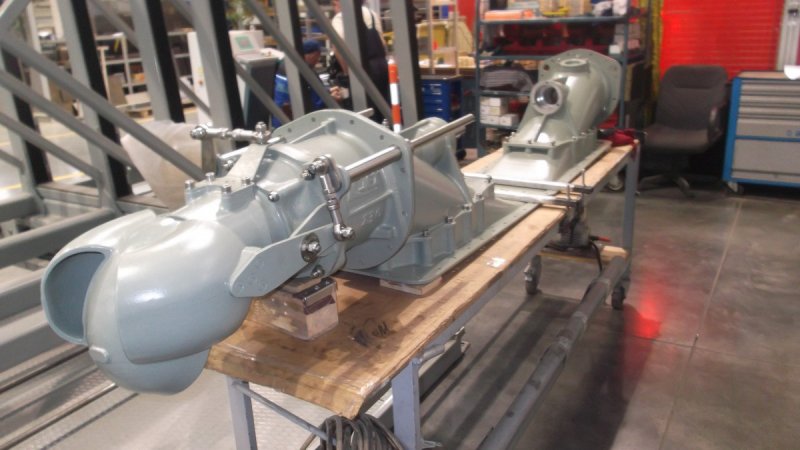 Water jet made by DM Technology
"Modern fast-speed vessels have just come to the edge of 4-5 grade sea disturbance force at speeds of 40-50 knots. Such an excellent performance at high power can hardly be effectively achieved with traditional propellers", says the specification posted by the Russian Ministry of Industry & Trade.
When developing propulsive systems, it is planned to use additive technologies and 3D models. "Potential customers for this kind of products are fishery companies, emergency control ministry, recreation fleet, security agencies, and other clients operating in severe weather conditions of high seas and internal waters", state the docs published by the trade ministry. The water jets must ensure boats' max speed of up to 40 knots.
Alpha trials of the import-substituted propulsive system are supposed to be held with the smallest water jet, 177 mm (VD177D), and the Russian derivative engine Z514. This powerplant is based on the automobile diesel engine 3M351432.10 with common-rail fuel injection system produced by
DM Technology
. In the future, the product line of the water jets will be extended with other sizes, 280 and 490 mm (VD280D and VD490D).
An insider in defense industry told
Mil.Press Today
that several companies were working on marinization of 3M3-514 engines in Russia. One of them managed to gain an approval of the Russian Navy Commander-in-Chief to use this powerplant on naval vessels. The interviewee named Finnish
Alamarin Jet
as a main competitor for the Russian water jets; supplies of that company are alledgedly protected from the Western sanctions.
Water jets are widely used abroad in the security agencies' motorboats. For instance, Capt 1 Rank Igor Ryabko, last commanding officer of former Russian aircraft carrier
Admiral Gorshkov
said India had selected gigs and crew boats ensuring max speed of 40 knots for their INS
Vikramaditya
. Patrol boats
Mark VI
of the US Navy Expeditionary Combat Command are equipped with water jets as well. They can also gain a speed of 40 knots.