"We can build them [new landing ships – editor's remark] at available docks, no problem, especially as such ships will most likely be built at
Yantar
shipyard that has everything needed for that", said the USC president.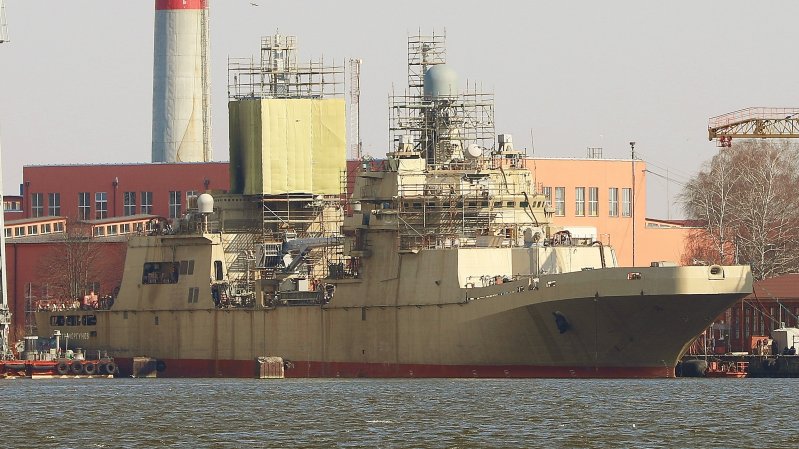 Project 11711 large landing ship Pyotr Morgunov in April 2019
He did not specify the project's features, as the final technical specifications have not been prepared yet. The corresponding works are underway by the responsible project developer, Nevskoe Design Bureau.
On April 5, 2019, an industry-related insider interviewed by
Mil.Press Today
announced the project of modernized large landing ship with larger displacement based on Project 11711, and keel-laying of two
Ivan Gren
-class ships. On April 9, the Russian defense minister Sergey Shoygu
declared
that two Project 11711 amphibious ships would be laid down on April 23. Keels of the two Project 22350
Admiral Gorshkov
-class frigates will be laid on the same day, he said.
"I'd not wish the two new landing craft the fate of Ivan Gren [Project 11711 lead ship – editor's remark]. Regrettably, such number of alterations in size and specifications has never come to any good", Rakhmanov said. Designing of the lead ship started in 1998, it was laid down in 2004, launched in 2012, and commissioned only in 2018. Being asked whether keel-laying of the additional landing ships is connected to deferral of the larger ones' construction, the USC president answered in the negative.
So far, building of the larger ships, including helicopter carriers, is shelved. Initially, their construction was planned at
Severnaya Verf
shipyard, but the company's re-equipment timelines, in particular, commissioning of the new shipbuilding facility, were deferred. The contractor, St. Petersburg-based
Metrostroy
, quitted as the company had failed to manage the works.
"We've learned the hardest way of lacking constructors", Rakhmanov said. "Everyone knew that in this regard
Metrostroy
was a pretty reliable company. Things appeared to be different though", he sighed.
In May 2017, the then-deputy defense minister Yury Borisov announced the first Russian LHD ship would see the light roughly in 2022. According to him, building of the ships similar to French
Mistral
s was included in the State Arms Procurement Program 2018-2025 [currently prolonged till 2027 – editor's remark]. Construction of a helo-carrier takes about four years.
Dmitry Zhavoronkov
Have anything to add? Feel free to contact Mil.Press:
+7 (812) 309-8-505, ext. 104
;