The Project 20386 multipurpose corvettes were developed at Almaz Design Bureau. They are intended for short/long-range naval warfare, protection of sea lanes and maritime commercial facilities.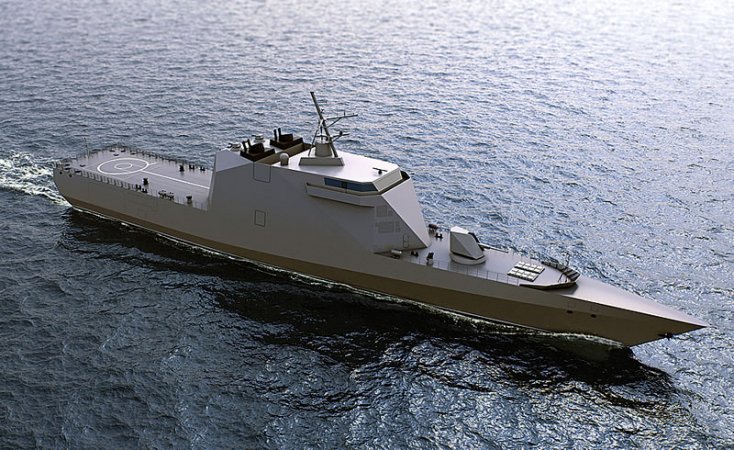 One of appearance options for Project 20386 corvette
Displacing 3,400 tons (length 109 meters), the ships will be armed with
A-190-01
100-mm artillery system, two
AK-630M
30-mm artillery mounts,
Redut
air defense system, two
Paket-NK
antisubmarine system launchers, and
Caliber
high-precision cruise missiles (or
Uran
antiship missiles). Also, each corvette will carry either
Ka-27
or
Ka-29
helicopter.
The Project 20386 lead ship was laid down on September 28, 2016 at
Severnaya Verf
shipyard. Initially called
Derzky
, in 2019 it was renamed into
Mercury
, after the Imperial Russian Navy's brig. The shipbuilders plan to launch the ship in the spring of 2021.
Currently, the Russian Navy operates three Project 11356 frigates:
Admiral Grigorovich
,
Admiral Essen
and
Admiral Makarov
. Building of the second trio of the project was suspended after frustrated deliveries of the gas turbine powerplants made by Ukrainian
Zorya-Mashproject
.
Displacement of Project 11356 frigates is 4,000 tons, speed is 30 knots, endurance is 30 days; onboard weapons include:
A-190
100-mm artillery mount, air defense artillery/missile systems, torpedo and ASW warfare facilities, and
Caliber-NK
long-range cruise missiles. The frigates accommodate
Ka-27
or
Ka-31
helicopters.