According to Filippov, the third conceptual project of the aircraft carrier displacing 76,000 tons holds the middle position between the 'heavy' Project 23000E
Storm
carrier (displacement 95,000-100,000 tons) and the multirole Project
Storm-KM
ship (displacement 44,000 tons).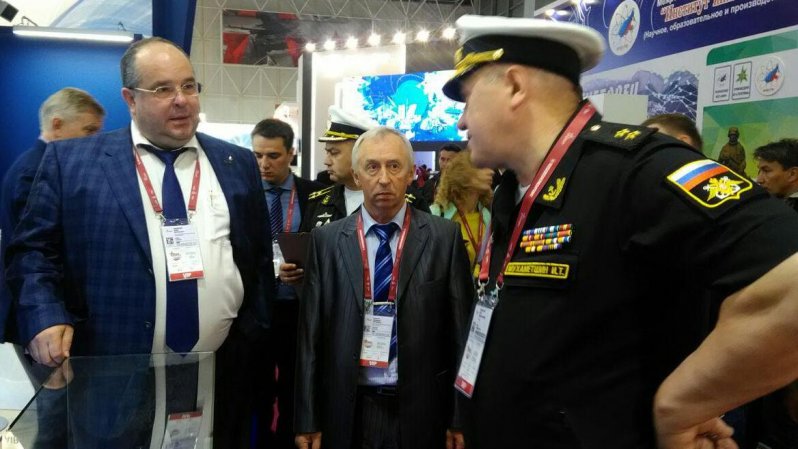 Vice Admiral Igor Mukhametshin and KSRC director Pavel Filippov at the Army-2019 forum
Dmitry Zhavoronkov, Mil.Press Today
While it is planned to make the
Storm
ship nuclear-powered and the
Storm-KM
– gas-turbined, designers want to equip the 'middle' aircraft carrier with the combined powerplant.
In the exclusive interview to Mil.Press, the head of KSRC said the nuke part of the prospective carrier is similar to the powerplant of the Project 855 Yasen cruise-missile submarines. The nuclear engine acts as a sustainer, and the gas turbine is involved "at the peak" serving as a booster, Filippov added.
Thus, at the moment the KSRC designers have offered the Russian Navy three aircraft carrier concepts developed within one project portfolio.
On the first day of the
Army-2019
forum, representatives of KSRC told
Mil.Press Today
that their center would present the completed line of aircraft carrier conceptual projects to the Russian defense ministry in June or July.
In April 2018, the then navy deputy commander for armaments Vice Admiral Viktor Bursuk told
Mil.Press Today
that the Navy needed aircraft carriers displacing 70,000 tons.
The Fifth International Military & Technical Forum Army-2019 takes place in June 25-30 at Patriot Congress & Expo Center, at Alabino Range and Kubinka Airbase. The forum is open for experts in June 26-27, and for mass visitors in June 28-30.

As a priority partner of the exhibition, Mil.Press publishes overviews of the novelties and business events in the section Army Forum.
Dmitry Zhavoronkov
Have anything to add? Feel free to contact Mil.Press:
+7 (812) 309-8-505, ext. 104
;