Three new 122-mm rockets were designed for
Tornado-G
system. According to Lepin, they have destruction effectiveness by times larger than standard projectiles of MLRS
Grad
, which is to be replaced by
Tornado-G
. Over 50 countries currently operate
Grad
and other Russian multiple launch rocket systems.
The unguided rocket with separated HE warhead is intended for destruction of uncovered and sheltered troops, unarmored vehicles, command posts, and other targets. Destruction effectiveness of this projectile is six times as much as the standard unguided HE rocket of
Grad
system.
The unguided rocket with cluster HEDP warhead destroys a target at the distance up to 20 km piercing the 140-mm thick armor. Its performance is 10 times as high as the standard rocket of MLRS
Grad
.
The third unguided rocket designed for
Tornado-G
is armed with a lethal HE warhead. The projectile is twice as effective as the standard rocket of MLRS
Grad
.
Combat potential of the new MLRS was for the first time demonstrated during the jubilee fifth Army forum at Alabino Range. Operation of
Tornado-G
is also shown at the booth of
NPO Splav
. By putting on 3D glasses, visitors can see the system in action. The model has a high-level granularity and clearly demonstrates the systemís capabilities, the companyís officials told
Mil.Press Today
.
In 2018, overall volume of military products supplied by NPO Splav overrun the 2017 results by 2.5 times, the Techmash director Vladimir Lepin shared. Over the last five years, this figure has grown by 20 times.
In addition,
NPO Splav
presented export weapons at the
Army-2019
forum. These are modernized MLRS
Grad
and
Smerch
, their rockets with warheads for different purposes and firing range up to 40 km and 90 km, respectively.
Foreign operators were offered modernization programs of previously sold vehicles, rockets for TOC-1A, and the new-generation 80-mm unguided airborne rocket S-8OFP with HE penetrative warhead and the small-size high-powered composite propellant engin.
For reference
The multiple launch rocket system
Tornado-G
was commissioned in the Russian Army in 2014 as a substitute for MLRS
Grad
. The combat vehicle is equipped with the automated guidance and fire control system and the prelaunch/launch equipment.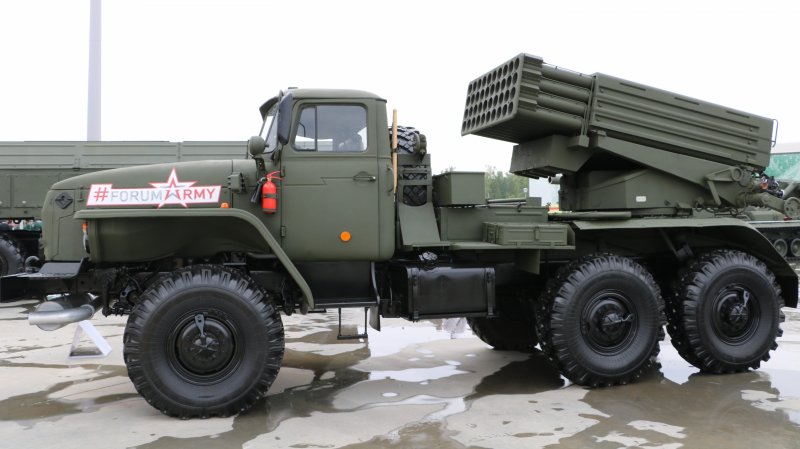 MLRS Tornado-G designed and produced by NPO Splav (division of Techmash Concern at Rostec State Corporation)
Press Service of NPO Splav
The
Ganichev NPO Splav
, a division of
Techmash
Concern at
Rostec
State Corporation, is the Russiaís leader in designing and production management of multiple launch rocket systems for the Russian Army and the Navy, and unguided airborne weapons for the Airspace Force. In April 2019, the company was officially renamed into the
Ganichev NPO Splav
.
The Fifth International Military & Technical Forum Army-2019 takes place in June 25-30 at Patriot Congress & Expo Center, at Alabino Range and Kubinka Airbase. The forum is open for experts in June 26-27, and for mass visitors in June 28-30.

As a priority partner of the exhibition, Mil.Press publishes overviews of the novelties and business events in the section Army Forum.
Dmitry Zhavoronkov
Have anything to add? Feel free to contact Mil.Press:
+7 (812) 309-8-505, ext. 104
;