The question is the new project that replaced foreign analogs. The system is made in Russia, added Buzakov.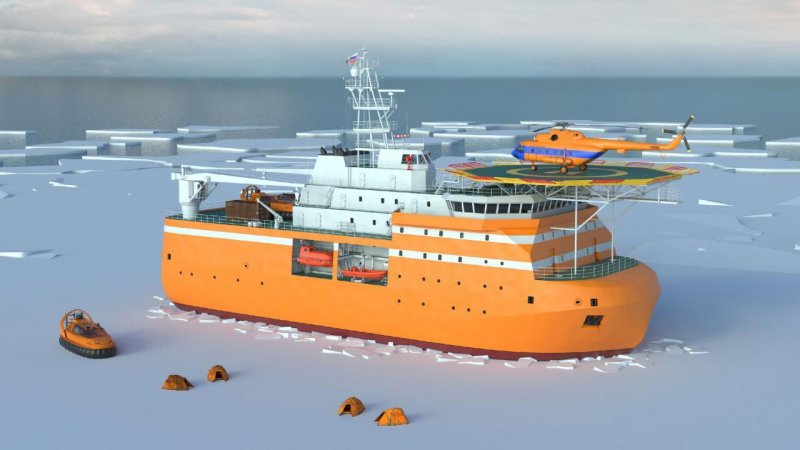 Project 00903 drifting ice-resistant self-propelled platform North Pole
Press service of Admiralteyskie Verfi shipyard
According to the director of
Admiralteyskie Verfi
, such system will be mounted on the Project 22600 icebreaker
Viktor Chernomyrdin
and the first Project 23550 arctic-zone patrol ship.
The lead ship of this type,
Ivan Papanin
, will be launched late in 2019 and commissioned in 2023, Buzakov said. The second patrol icebreaker,
Nikolai Zubov
, will join the Russian Navy in 2024.
Earlier, Russian designers used to include imported heating systems in the icebreaker projects. Starting from Ilya Muromets, the Project 21180 lead icebreaker, the heating systems installed are domestically-made, the head designer of Vympel Design Bureau, Mikhail Bakhrov, told Mil.Press Today. By the way, deck heating systems are required by the Russian Maritime Register of Shipping.
The system was mounted on the Project IBSV01 icebreakers
Alexander Sannikov
and
Andrey Vilnitsky
, too, and the Project 21900M icebreaker
Novorossiysk
. Russian heating systems have effectively proved themselves on the polar ships built by the Vyborg Shipyard, its director Alexander Solovyov told
Mil.Press Today
in December 2018. The similar equipment will be mounted on the Project 21180M military icebreakers.
According to Denis Shevchenko, director of
Bee Pitron
, a company designing marine heating systems, the equipment features simplicity and operates on the 'switch-and-forget' principle. It can be customized for a particular ship. "We perform thermal analysis for each solution, design a 3D model, and hold trials", Shevchenko said. "All heated elements are designed and integrated at a customer's request. Besides, the system is accompanied by the standard documentation", he added.
For reference
North Pole
ice-resistant self-propelled platform is designed for the year-round integrated scientific researches in the high latitudes of the Arctic Ocean. The platform constitutes a specialized vessel with the high-strength hull (ice class Arc8), fuel endurance of about 2 years, and service life of at least 25 years. The crew is 14 men plus up to 48 scientists.
The all-season research platform with integrated equipment is capable to carry out geology, acoustic, geophysical and oceanographic observations, move in the ice without icebreaker assistance, and accommodate Mi-8 or Mi-38 helicopters on the helipad. The platform's length is 83.1 meters, width is 21.8 meters, draft is 8.6 meters, displacement is about 10,000 tons, main engine power is 4,200 kW, speed is at least 10 knots.
Dmitry Zhavoronkov
Have anything to add? Feel free to contact Mil.Press:
+7 (812) 309-8-505, ext. 104
;