In April 2019, the
Ivan Papanin
's launching ceremony was announced to be held at the yearend.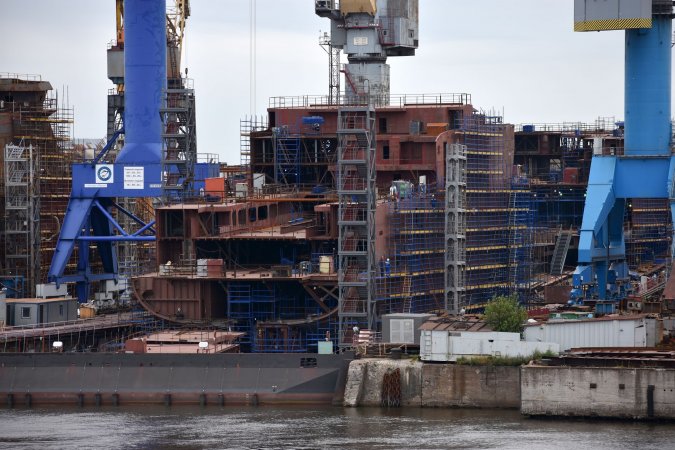 Project 23550 icebreaker Ivan Papanin
Alexander Buzakov added that the contracted term of the ship's handover to the Russian Navy is 2013.
Hull-shaping of the first serial patrol icebreaker,
Nikolay Zubov
, will start after launching of
Ivan Papanin
, said the shipyard's director. Delivery term of the icebreaker is 2024. Initially, the plan was to lay down the ship in 2018 and deliver in two years, but then the keel-laying was shifted to 2020.
Two well-informed industrial insiders told Mil.Press Today that the customer currently considers possible extension of the series and laying down new ships, probably, under a modified project. The insiders added that except for the Navy, the project kindled interest amid other security agencies.
Ivan Papanin
was laid down at
Admiralteyskie Verfi
in April 2017. Its handover to the Russian Navy was originally scheduled in 2019.
For reference
Ivan Papanin
is the Rank II multirole patrol ship (patrol icebreaker) opening Project 23550 developed by
Almaz Design Bureau
. Ships of this type will combine warfare, search/rescue, and scientific/research functions. Among their missions are security and monitoring of Arctic waters, convoying and towage of intruding vessels, escorting and supporting of auxiliary ships, and taking part in rescue operations (inc. getting afloat of grounded vessels), transportation of special-purpose cargoes. The
Ivan Papanin
-class icebreakers will have firefighting capability as well.
Displacement of the patrol icebreaker is about 8,500 tons, length is 114 meters, beam is 18 meters, draft is 6 meters. The 15-MW powerplant will accelerate the ship up to 18 knots. Propulsion system includes two 6,000-kW azimuth thrusters and a 500-kW ducted thruster. Endurance is about two months, operating range is up to 6,000 miles. Basic crew is 49, additional crew is 47.
The ship is capable to overcome ice up to 1.5 meters thick, and on the move – up to 1 meter thick (Ice Class Arc6). Armament: automatic artillery system AK-176MA. In addition, the icebreaker accommodates a helicopter, unmanned aerial vehicles, Project 02800 landing assault boats, and Project 23321
Manoul
air cushion craft. Deck outfit: towing gear with pulling force at least 80 ton-forces, and two electric/hydraulic cargo cranes with lifting capacity about 28 tons each.
Reportedly, the ships will completely consist of Russian-made components.
Dmitry Zhavoronkov
Have anything to add? Feel free to contact Mil.Press:
+7 (812) 309-8-505, ext. 104
;