According to the annual reporting of the Krasnogorsk plant, in the last year it completed "a set of trials in order to equip the T-90 tank with the
Irbis
thermal-vision sighting system, which ensured conclusion of supply contracts on 2017 and further years". Details of the tests and technical features of the sight are not disclosed.
Press service of
Schwabe
, the plantís holding, refused to give comments: experts told Mil.Today that security services had prohibited disclosing tactical and technical characteristics of the
Irbis
system. However, the sight was many times displayed at Russian and international exhibitions, which photos and presentation videos are publicly available.
Features of the new gunnerís sight Irbis
For the first time the new tank gunnerís heat-vision sight
Irbis-K
and the commanderís combined sighting and observation system
Agat-MDT
were presented at the Engineering Technologies 2012 exhibition. Allegedly, both systems are based on Russian-made components.
According to the publicized characteristics, the tank heat-vision system
Irbis-K
is designed for T-80 and T-90 tanks.
The sight is capable to identify targets at the range up to 3,240 meters day and night. Its spectral range is 8-12 micron (while in 2012 this parameter was declared as 7-12 micron). The photodetector type is submatrix, 4*288 elements. Wide field of view is at least 6.8 per 9 degrees, narrow field of view Ė at least 2.3 per 3 degrees.
The image is transmitted via digital interface on two gas-discharge displays. The gunner may hit targets either with automatic ranging or, in emergency mode, with manual ranging by the 'base on target' method. A tank commander may hit targets with manual ranging by using the same technique.
Operating temperatures of
Irbis
range from minus 50 to plus 50 degrees. The system is capable to operate in conditions of sand, dust, hoarfrost, sea fog, dew, or high humidity.
The heat-vision sight operates in tandem with the commanderís combined sighting and observation system
Agat-MDT
. In 2012, this device was codenamed as TO1-KO 4DT.
Spectral range of its photodetector is 3-5 micron, representing a cooled matrix with resolution of 320*256 pixels. Identification range is up to 2.5 km, an option of double range is also available.
Source: Russia makes up for long-lasting lag in heat-vision technologies
According to an insider in Russian defense industry, heat-vision devices for military hardware like tanks, IFVs and helicopters began to develop in 80ís, and at that time Soviet projects were globally recognized.
"The Soviet defense industrialists chose to develop infrared imagers instead of thermal sights based on mercury-cadmium-telluride (MCT) light-sensitive films. IR technology showed little promise and films were regarded as too expensive, so that area has seen no funding since the end of 80ís till late 90ís", said the source.
As a result, for several years Russia was left behind in terms of production of heat-vision devices.
As of today, there are two categories of thermal vision devices: the first one is based on MCT films with cooled matrixes (spectral range 7-12 micron), and the second one is with uncooled matrixes on microbolometers (range 3-5 micron). Microbolometer is a thermal detector of optical radiation, most often, IR-band.
Russian scientists mastered growing mercury-cadmium-telluride films at the turn of XXI century, a source in the Institute of Semiconductor Physics at Siberian Branch of the Russian Academy of Sciences told Mil.Today. However, it is also important to enter their mass production, he added.
Russia coped with mass production of uncooled matrix microbolometrical receivers only last year, they had been bought from France before. Russian tanks T-90, including export ones, were equipped with heat-vision devices produced by
Thales
. Their licensed production was set up at the Vologda optical mechanics factory.
According to Viktor Murakhovsky, a military expert, those matrixes are suitable for small arms or short/middle-range antitank weapons, but for tanks and helicopters leading NATO countries use MCT-film cooled matrixes. Murakhovsky added that Russian thermal cameras
Agava
and
Agava-2
for Т-80U and Т-90 tanks were also based on microbolometers and are less effective. Earlier on, it was planned to equip upgraded tanks T-80 with Belarusian fire control system
Sosna-U
produced in Russia.
Sosna
has a 2G thermal vision camera with spectral range of 8-12 micron.
"Matrixes can be tracking or scanning. Tracking ones are faster and more effective. In Russia, there is a pilot production of scanning matrixes", the source in Siberian Branch of the Russian Academy of Sciences told Mil.Today.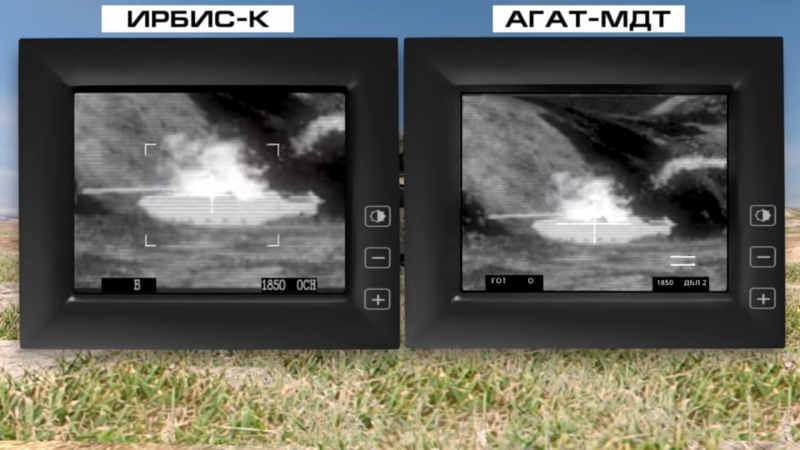 Image on the of commanderís and gunnerís displays equipped with heat-vision sighting systems Irbis and Agat-MDT
Krasnogorsk plant
"Operational range of the
Irbis
-based gunnerís sight is 8-12 micron", says Viktor Murakhovsky. "Thus, it is a real MCT matrix, but what kind of it, a tracking or a scanning one, is unclear yet. If in Russia, particularly at Vologda, Krasnogorsk or Kazan optical factories, they have already launched production of such heat-vision devices, thatís a great success. A couple of years ago there were some serious issues with them; sometimes it was discussed to redesign the sighting system. By now, we have learned how to make scanning MCT matrixes, however, one need time and huge funds to transfer the technology from labs to mass production at factories".
"Besides, as far as I know,
Irbis
has not been massively mounted anywhere yet", added Murakhovsky. "Perhaps, the sight has got the prototype of such matrix, and modernized tanks T-72B3 and T-90 will help to perfect the new technology", summarized the expert.
In 2017, Russia marks the 57-th anniversary of the first MCT researches and 45-th anniversary of works on MCT matrix heat-vision devices at the Scientific and Research Institute of Applied Physics (
NPO Orion
), the State Institute of Applied Optics (Kazan), and the Ioffe Institute (Saint Petersburg).