Earlier, officials from the United Shipbuilding Corporation announced the frigate would be handed over in 2017. On December 27 at 11 am, the Russian Navy flag will be hoisted on the ship.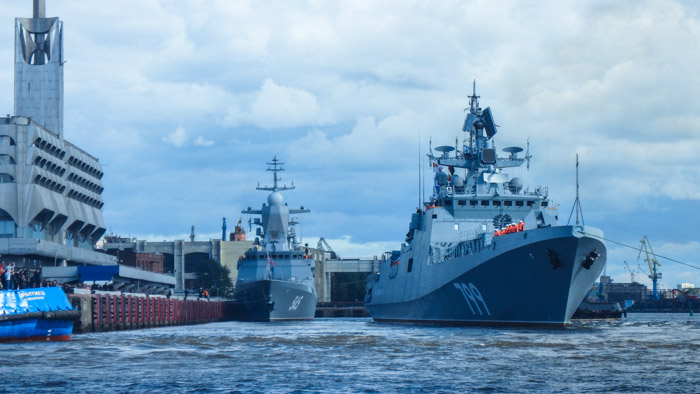 Project 11356 Admiral Makarov leaving the International Maritime Defense Show 2017
Mil.Today, Dmitry Zhavoronkov
Capt 1 Rank (Ret.) Viktor Blytov experienced in navigation of Project 1135 II-rank frigates told Mil.Today that in Soviet times these ships had been deployed in the Mediterranean Sea on a permanent basis within the 5th Task Squadron and patrolled the region with a 12-ship brigade. About 3-5 Project 1135 ships were within that task force all the time. Their key purpose is to track hostile submarines and surface ships. "These ships had been completing their missions perfectly", Blytov said.
The project has great upgrading potential; its retrofitted version generally meets all present-day standards, an ex-communications officer once served on a Project 1135 ship told Mil.Today.
Admiral Makarov
is a third Project 11356 frigate designed for the Black Sea Fleet. The ship was laid down on December 29, 2012 and launched on September 2, 2015. As was reported early in December 2016, the frigate proceeded with final stage of state trials and was supposed to join the Russian Navy by the yearend, however, the handover was postponed. Shipbuilders explained the delay was caused by unstable operation of the
Shtil-1
air defense system, which was discovered at the trials.
In June 2017, Russian Navy's deputy commander for armaments Vice Admiral Viktor Bursuk announced
Admiral Makarov
to be commissioned into the Black Sea Fleet at least in November, and in September he said the frigate would join the Navy by the month's end. Then the commissioning was rescheduled to the end of October.
Project 11356 frigates are designed for long-range missions and antisurface/antisubmarine warfare, as well as air defense. The arms include 100-mm A-190 gun mount, antiaircraft missile/artillery systems, torpedoes, ASW assets, and
Caliber-NK
long-range cruise missiles. Ka-27 or Ka-31 helicopter is based on the aft pad.