The question is supplies of the propulsion plant consisting of 3 x 3,600-kW Chinese diesel engines CHD622V20CR, three
Rejnes
reverse gears WVS2240, and control systems. Besides, MPS offered the shipyard to equip
Karakurt
-class corvettes with 3 x 320-kW diesel-driven generators DGA-320-V-А1-MPS.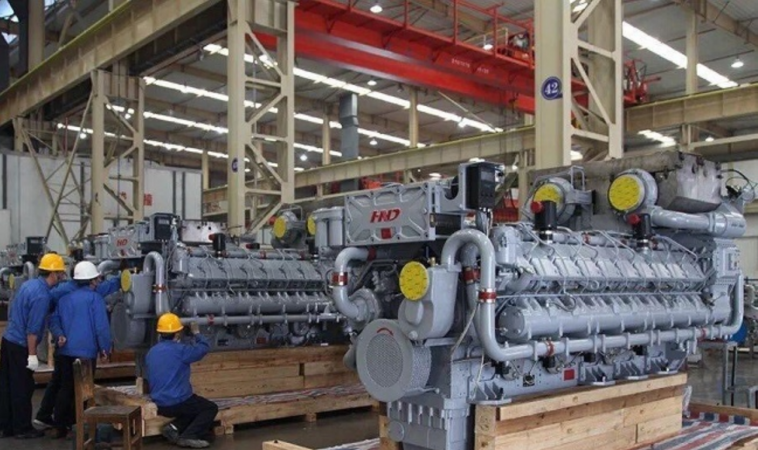 Diesel engine CHD622V20 produced by Chinese Henan Diesel Engine Industry Limited
The company ignored the inquiry sent by
Mil.Press Today
on August 7. The representatives of the company supplying Chinese engines failed to provide comments by phone, either.
The project 22800 corvette was developed by the Almaz Central Marine Design Bureau. Its top-ranking official, though anonymous, told
Mil.Press Today
that the bureau had reviewed the technical specifications of the engines offered by MPS, however, there was no talk about approval so far. Theoretically, mounting of the Chinese powerplants on the Russian ships is possible, but originally they were tailored for Russian engines, added the interviewee.
The
Karakurt
-class corvettes are built by the Pella Shipyard (Otradnoye, Leningrad Region, and the yard's branch in Feodosiya, Crimea) and by Zelenodolsk Shipyard. Keel-laying of new ships of this type is also planned at the Amur shipyard and Vostochnaya Verf. According to available information, MPS filed offers to supply marine equipment to Pella Shipyard and AK BARS shipbuilding corporation, a parent company of Zelenodolsk Shipyard.
Sources at both companies shared that the design of already formed hulls of Project 22800 corvettes presumed planting of Russian diesels M507A. Equipping with the Chinese engines will need project alteration and further rebuilding of the ships. The M507 engine was designed back in the Soviet period at Zvezda Diesel Engineering Plant in Leningrad.
Viktor Lesh, director of the JSC Zvezda Research & Production Concern (joint venture of PJSC Zvezda and Ural Diesel Motor Plant) for production of high-speed engines, refused to comment the alleged supplies of Chinese engines for Karakurt-class corvettes. Reportedly, Zvezda is delaying supplies of M507 engines for the Russian Navy. For example, delivery date of several main propulsion plants M-507D-1-OM3 for Karakurt-class corvettes was shifted from 2017 to 2018; generators DGAS-315 will be ready almost one year later as well. As for a well-informed source, due to Zvezda's production deadline problems, the military has to search for alternatives.
Except for Zvezda, such engines are to be produced at Kingisepp Machine Building Plant (KMBP, member of Kalashnikov concern). The company's director general, Anatoly Rusin, told
Mil.Press Today
that the Project 22800 corvettes were originally designed for Russian engines M507A. As to him, using of Chinese diesels will deteriorate technical characteristics of the ship. Moreover, in case the Chinese engines are applied, the speed designed by the project and required by the client will be also reduced. KMBP is capable to produce 10 main propulsion plants M-507D-1 annually, added Rusin.
In August 2018, the director of AK BARS corporation Renat Mistakhov advocated for the import substitution in the interview to
Mil.Press Today
. He believes Russian diesels are more preferable for national corvettes than the foreign ones: they are simpler in maintenance and repair, less problematic in terms of components supplies. "We see what progress has been achieved in terms of diesel engines by Kingisepp Machine Building Plant and Zvezda". Along with that, he stressed that supplies issue would be anyway upon the client, depending on its own requirements to the ships performance.
In the summer of 2017, the problems happened to the Chinese diesel CHD622V20
caused frustration
of timely commissioning of Project 21361
Buyan-M
-class corvette
Vyshny Volochek
. Late in August 2018, the similar new engine broke on
Bezuprechny
, a new Project 22460 coast guard patrol ship. In 2016, two same-type engines broke down on the ships built by Almaz shipyard. This information was confirmed by the yard's director Ilyaz Mukhutdinov. As for him, in both cases the failures were caused by different reasons.
For reference
Project 22800 corvettes were developed by Almaz Central Marine Design Bureau as an alternative for delayed construction of Project 11356 frigates. In total, the Russian Navy plans to receive up to 23
Karakurt
-class corvettes.
The ships are equipped, in particular, by 76.2-mm gun mount AK-176MA and attack missile system
Caliber-NK
. Displacement is 800 tons, max speed is 30 knots, endurance is 15 days.
Dmitry Zhavoronkov