Also,
Remdiesel
will present the basic 10-seat version of K-53949 armored car and the pilot version of medevac rover based on its chassis and designed for evacuation of wounded personnel from the battlefield. The latter will be displayed at the booth of the Russian Defense Ministry's Medical Department.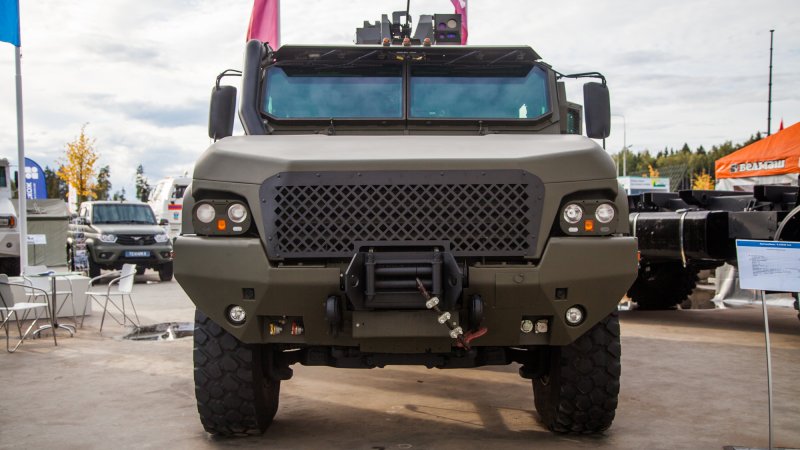 Armored rover KAMAZ K-53949, the base for self-propelled AT missile system
Nikita Grigoriev, Mil.Press Today
"Using of this vehicle increases chances for qualified medical aid in the shortest possible time, within the so-called 'golden hour', which considerably enhances the likelihood of survival for wounded personnel. This confirms the RD's key mission – to protect lives of soldiers. Now we are proud to follow this commitment not only by supplying the Russian Army with high-grade armored vehicles, but also by contributing in life-saving of injured soldiers, ensuring their rapid evacuation from the battlefield", the company's spokesman told Mil.Press Today.
Visitors of the Army-2018 forum will see the upgraded armored vehicle for special units, K-4386
Typhoon-VDV
. In contrast to frame-designed K-53949, on which it is based and unified in basic aggregates and chassis systems, it is a hull-design vehicle. According to manufacturers, this concept allowed for considerable reduction in unladen weight, general center of mass, and dimensions.
These solutions led to increased cargo capacity of the vehicle and ensured the possibility of mounting heavier weapons and other special systems. Weight reduction also contributes in cross-road performance of the vehicle. Configuration of
Typhoon-VDV
has been simplified as compared to the sample presented at the last year's Army forum. In particular, designers replaced the air suspension for the spring one. The onboard information/control system and the all-round camera system were streamlined as well, which resulted in reduced overall cost of the vehicle.
Remdiesel
plans to continue cost reduction efforts in the future. K-4386 currently undergoes trials.
At the
Remdiesel
's booth, representatives of the military authorities will be able to familiarize with the progress in the company's independent research project, chassis of
Tornado
K53958 family. Under this project, controlled by the ministry of defense and along with Instrument Design Bureau (Tula, Russia),
Remdiesel
produces vehicles intended for payload from 8 to 30 tons. The project provides for the versions with armored single- or double-row cabin. The company will present the
Tornado
vehicle at the static exposition.
Based in Naberezhnye Chelny,
Remdiesel
has been operating since 1978. The company supplies the Russian military with special-purpose equipment throughout the entire life cycle, including designing and development, manufacturing, technical supervision in operation, capital repairs and utilization. Since 2009, RD acts as the sole contractor of Russian Defense Ministry maintaining life cycle of KAMAZ, MT-LB and other vehicles on their chassis.
Army-2018 forum will be held in August 21-26 at the Patriot Congress & Expo Center, Alabino Range, and Kubinka Airbase near Moscow.