Development of the engines family has lasted since 2014. Power of the pilot engine is 330 kW (450 hp). In addition, the company is to produce and test prototypes with the power of up to 560 kW (760 hp) this year. Generally, the program implies designing of powerplants from 294 kW to 1,324 kW (400-1,800 hp).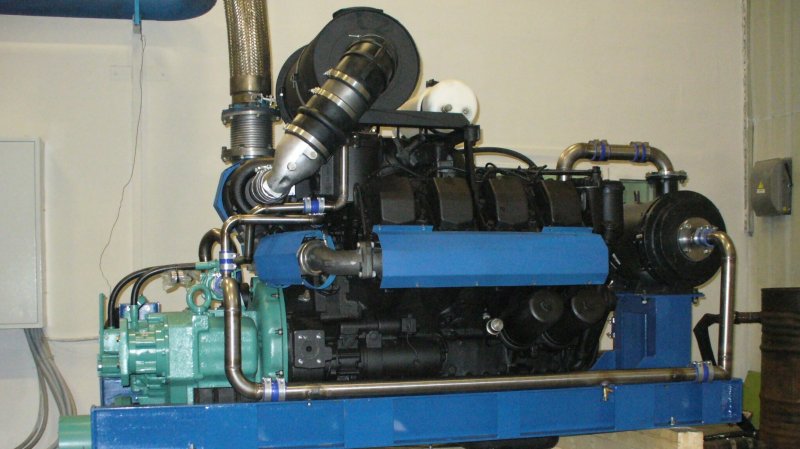 Marine diesel geared unit series DRA-TMZ "Reka-400"
The unit presented is a multifunctional system suitable for different applications, including small craft. Sergey Stolyarov, chairman of the Marine Combustion Engines & Diesel Plants Department at the Saint Petersburg State Marine Technical University, assessed the prospects of the new diesel favorably.
"In this power range, it falls into the class of engines that may supplement product line of Zvezda plant. With its compactness, specific powers, and low consumption, TMZ-880 will definitely find a niche in the river fleet. Sure, it'll take some work to adjust it to the navy. The standards are different there. In the long view, however, the plant might cope with the sea sector", the scientist commented.
The company's deputy chief designer Alexander Shevtsov told about further steps in engine development. As for him, the special sea-going versions are possible. To this end, the plant most likely will engage competent specialized organizations, perhaps, educational institutions.
Professor Vladimir Baranovsky, Non-Nuclear Marine Powerplants Department at the Naval Academy's Scientific Center, says adaptation of the river-class diesels for the sea applications will entail certain design changes, for instance, adjustment of cooling system to sea water.
Another promising marine diesel can be YMZ-850. Currently, PJSC
Avtodiesel
is undergoing certification procedure of the ship-based versions of YMZ-850 in the Russian Maritime Register of Shipping.
Tutaev Motor Plant
is involved as a components supplier. Also, Russian companies have designed a powerplant for Z514 motorboats based on the automobile diesel engine 3M351432.10. It is
used
in trials of water jets being an import substitution under R&D project
Slamming
.
Valery Butymov
Have anything to add? Feel free to contact Mil.Press:
+7 (812) 309-8-505, ext. 102
;