Major bidders for the 45-million ship-repair contract are Sevastopol branch of the Zvezdochka Ship Repair Center and the Yuzhny shipyard also located in Sevastopol. Initially, it was planned to complete all works in three months and remove the ship from the dock by January 30, 2016. However, as judged by the tender protocols, the ship owner has already refused twice from the both offers.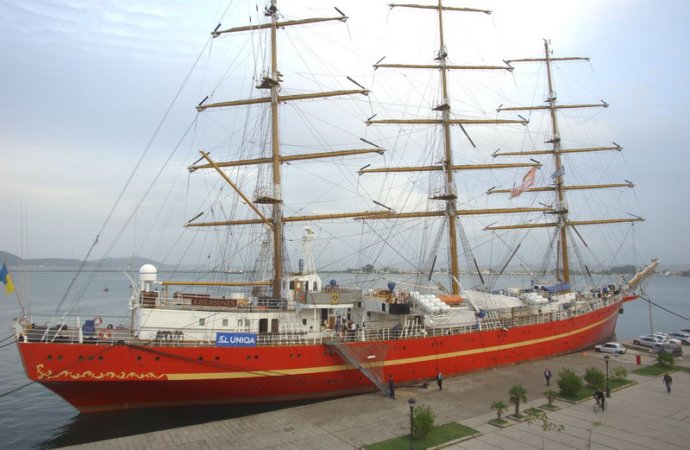 Except for recovery of the ship's hull, it is planned to repair two main and one auxiliary engines, shipboard equipment and deck structures by separate procurement programs.
Currently, Khersones is located in the port of Sevastopol where she was towed in October 2015. The ship repair problems have not been settled for a long time because of a disagreement between the economic entities. The Ministry of Transport represented by FSUE Rosmorport and the Ministry of Agriculture represented by the Rosrybolovstvo simultaneously applied for the ship. Both agencies needed the sailing ship for training purposes of their cadets.
Meanwhile, the Ministry of Transport already possesses two same-type sailing ships Mir and Nadezhda. Another sister ship – Pallada – is owned by the Far East Fishery Technical University, being a part of the Rosrybolovstvo. The Russian Navy has an idea of using sailing ships to train cadets as well.
Khersones was built in 1989 by the Danzig shipyard in Poland based on the original three-masted sailing ships of early XX century. The ship's basis characteristics: length overall (with the bowsprit) – 108.6 meters; beam – 14.0 meters; hull height – 10.65 meters; draft – 5.8 meters.