"Crewmembers of Igor Belousov prepared for service at manufacturing factories. In their turn, divers were trained in Australia and obtained internationally recognized diplomas", said Viktor Bursuk, the Russian Navyís deputy commander-in-chief for armaments.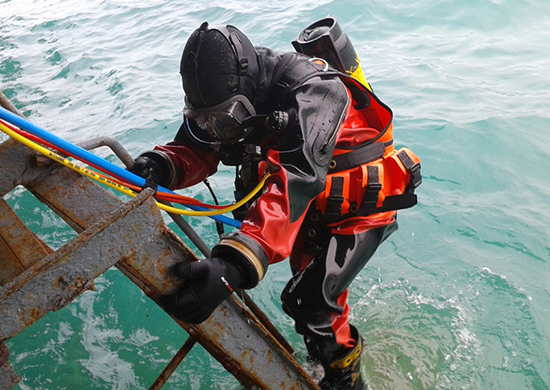 Built by the Admiralteyskie Verfi shipyard, the newest search-and-rescue ship Igor Belousov was officially
handed over
to the Russian Navy last Friday, on December 25.
As is known, Igor Belousov will be stationed at the Pacific Fleet within the 79th Unit of the Emergency Response and Rescue Force. In total, the Navy plans to purchase other three rescuers of this class.
Reference
The seagoing search-and-rescue ship Igor Belousov was laid down in December 2005. The ship was designed by the Almaz Central Maritime Design Bureau (Project 21300) and is intended for rescue of crews of wrecked submarines either grounded or surfaced, as well as for maintenance life support of a rescued ship. According to the manufacturer, the Igor Belousov rescue ship substantially surpasses foreign analogs in operational and tactical characteristics.
Basic "weapon" of the ship is a diving bell of the GVK-450 system. It was tested with a crew placed inside only at one-fourth of the declared depth. It means that dives were performed only down to 100 meters out 450 meters stated. As is reported, the full-fledged trials of the deep-sea diving system is to be held in 2016.
In 2013 FlotProm published the large-scale journalistic investigation named
No Rescue
disclosing the lack of up-to-date submariners rescue systems. In August 2015 Russia commemorated 15th anniversary of the tragedy happened to nuclear submarine Kursk.