The ship was ordered by FSUE "RosRAO" (subordinate of the state corporation
Rosatom
), reports
Korabel.Ru
.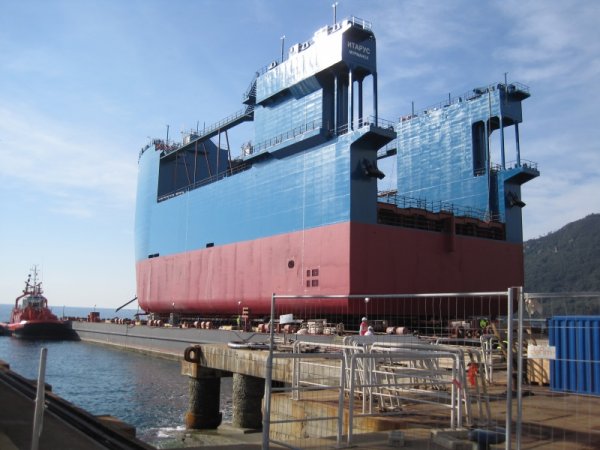 Hull of Itarus under construction
Itarus
is a non-propelled ship designed for operations related to lifting, transportation and placing on the stocks of floating multisectional reactor blocks. Constructively, the ship represents a steel unit-type box dock.
In the spring 2016
Itarus
will head for the port of Murmansk for further handover to the customer.
In 2003, governments of Italy and Russia agreed to cooperate in creation of infrastructure for safe handling of nuclear fuel, nuclear waste processing and disposal of decommissioned Russian nuclear-powered submarines in the waters of Russia's northern seas. Italy allocated EUR 310 mln under the Global Partnership program.
These money were spent on construction of hardened shelters over radioactive waste depositories, and disposal of six nuke subs. In 2011,
Fincantieri
shipyard fulfilled the order of FSUE "Federal Center for Nuclear and Radiation Safety" and built a specialized ship
Rossita
designed for transportation of spent nuclear fuel and radioactive waste.
Specifications of Itarus ship:
length overall – 85 meters;
beam overall – 31.2 meters;
towage draft – approx. 7.7 meters;
operational draft – 24.5 meters;
height to erection top deck – 29 meters;
deadweight – approx. 3,500 tons;
max towage speed – 6 knots;
fuel endurance – 7 days;
crew – 6 persons;
life cycle – 50 years.