The source called D500 an up-to-date diesel engine.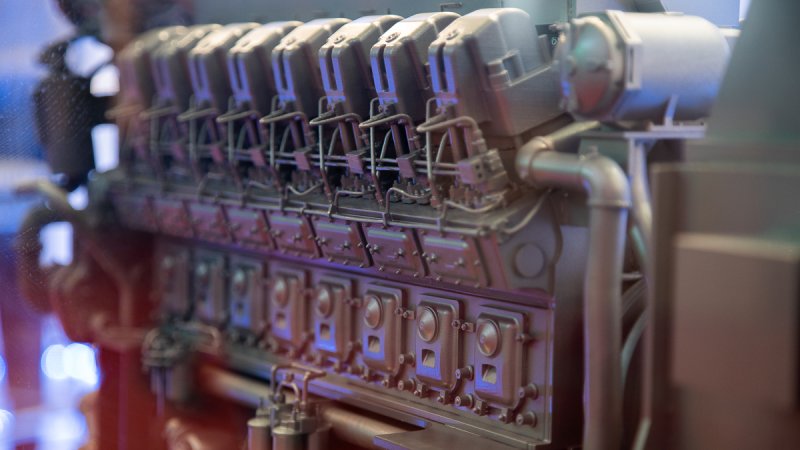 Marine diesel 16SD500 based on D500 type engine designed by Kolomensky Zavod (member of TransMashHolding)
Andrey Sergeyev, Mil.Press Today
According to him, the ship version of D500 will offer the wide range of new opportunities for the Russian Navy, due to higher power and more advanced design. The navy is already considering several variants of future combat ships adopted for D500 diesel, he added.
Also, the expert stated that in terms of configuration D500 was similar to diesels made by German
MTU
.
"Increased piston stroke improves efficiency and operation characteristics. What is also important, the D500 engine is more powerful (about 10,000 hp), while boosting potential of D49 (6,000 hp) has been already expired. Besides, the new diesel gets us closer to electric propulsion", said the officer of the Russian Navy's Research Center.
A source in the Russian engine industry said the principal drawback of D500 was huge import dependency due to an array of foreign-made components. Hopefully, this problem would be fixed in the next few years, commented the interviewee of Mil.Press Today.
The editorial failed to receive prompt comments on the D500 tests from
Kolomensky Zavod
. The company's press service recommended making an inquiry in December. An insider in the factory shared that the diesel could be presented by the year end.
For reference
Kolomensky Zavod
is implementing the project of new engines in coordination with the Ministry of Industry and Trade. At
Army-2018
forum, the company
presented
the marine version of D500 diesel, the 16-cylindered 16SD500, along with a family of new engines.
Dmitry Zhavoronkov


Have anything to add? Feel free to contact Mil.Press:
+7 (812) 309-8-505, ext. 104
;