Project 22350 serial frigates carry 16
Caliber
missiles, thus, the upgraded version will receive 24 cruise missiles of that type. The point is not a modification 22350M, but redesigning of the basic project 22350, emphasized the interviewee.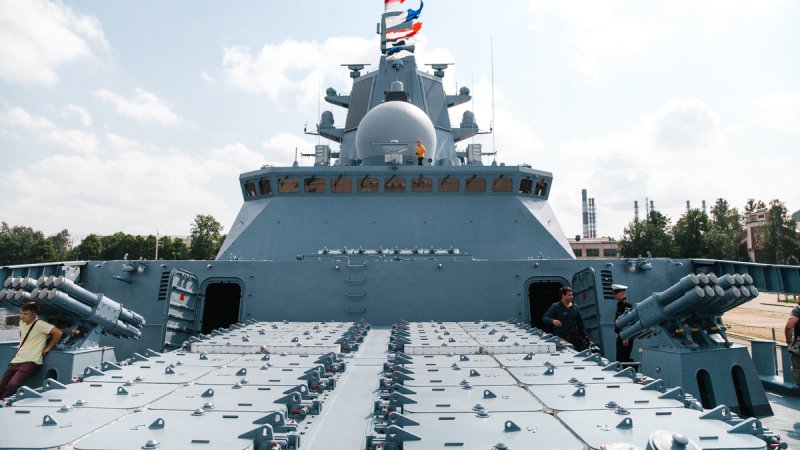 Vertical launch system of Caliber cruise missiles mounted on Admiral Gorshkov frigate
Nikita Grigoriev, Mil.Press Today
He failed to specify what version of the cruise missile is planned for installation on the ships. Early in January, media reported that the Russian defense ministry had funded the research works on the ship-based missile system
Caliber-M
. It will be capable to hit targets at the distances over 4,500 km.
Another source in the industry took skeptically the plans to enhance arms of the frigates with the new Caliber missiles or to increase number of available ones, as the issue of other ships' building is still outstanding. As was told to Mil.Press Today, the decision as to construction of the new Project 22350 ships depends on appropriate funding, which is lacking now.
Earlier, the Russian Navy's shipbuilding program provided for construction of eight Project 22350 frigates by 2020. Later on, this number was cut down to six, and then to four ships.
For reference
Up to date, the Russian Navy has received only the lead ship in the class,
Admiral Gorshkov
. The second frigate,
Admiral Kasatonov
, will be allegedly handed over in the fall of 2019. Shipbuilders plan to complete the series by 2022.
According to Adm. Viktor Chirkov, Russian Navy's ex-commander, it needs at least 18 Project 22350 frigates and 36 Project 20380 (20385/20386) corvettes. Also, Chirkov criticized short series, calling them harmful to the shipbuilding industry and the navy.
Dmitry Zhavoronkov


Have anything to add? Feel free to contact Mil.Press:
+7 (812) 309-8-505, ext. 104
;