In total, by the end of the State Arms Procurement Program 2027, the Russian Navy plans to lay keels of five
Gorshkov
-type frigates, a high-ranking interviewee from the United Shipbuilding Corporation shared with
Mil.Press Today
.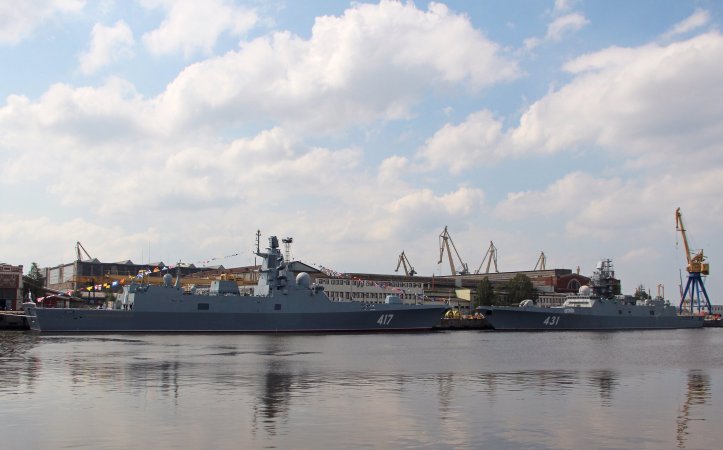 Project 22350 frigates Admiral Gorshkov and Admiral Kasatonov in the basin of Severnaya Verf shipyard
It is planned to sign contracts for the two new ships by the yearend. Indicatively, that would happen in the summer, during the International Maritime Defense Show or the Army-2019 forum, added an insider in the local shipbuilding industry. In January,
Mil.Press Today
reporters
found out
that each frigate of the second series would get 24
Caliber
cruise missiles instead of 16.
The shipyard's press service refused to give any comments.
Frigates and other combat ships of basic classes must be built in large series; small-scale production is unprofitable for the industry and harmful for the navy, said Vice Admiral (Ret.) Vladimir Pepelyaev, ex-director of the military shipbuilding systems integration department at the Krylov Research Center in the interview to Mil.Press Today. As for him, along with construction of the large series of frigates, Russia must proceed to designing of the ocean-zone ships, primarily, destroyers. "A fully-featured destroyer is more essential for the navy than an enlarged retrofitted Project 22350M frigate", concluded the expert.
When planning construction of the first series of Project 22350 frigates, the Russian Navy first was going to order eight, and then only six of these ships. The series was finally reduced down to four frigates due to the funding gap.
Late in December 2018, Severnoye Design Bureau kicked off concept designing of Project 22350M frigates, which, insiders say, will take 2 or 3 years, while construction of one ship by
Severnaya Verf
or
Yantar
shipyards will last 4-5 years.
For reference
According to the Russian Navy's ex-commander, Adm. Viktor Chirkov, the navy needs at least 18 Project 22350 frigates and 36 Project 20380 (20385/20386) corvettes.
The Russian Navy has been operating the Project 22350 lead frigate
Admiral Gorshkov
since July 2018. The first serial ship,
Admiral Kasatonov
, is preparing for another phase of sea trials to join the navy in the falls. The whole series is to be completed by 2020.
Dmitry Zhavoronkov
Have anything to add? Feel free to contact Mil.Press:
+7 (812) 309-8-505, ext. 104
;