The engines designed jointly with Austrian AVL contain "inexcusably much" foreign-made parts, stressed the interviewee. For one, the piston block and control units are produced abroad, as well as crankcase boring and filters.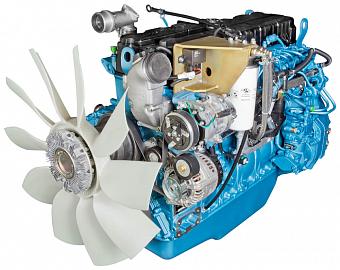 YMZ-530 family diesel engine
He added that in 2011, at the beginning of batch production, the 530th family was meeting all current standards. However, now these engines look obsolete if compared to foreign counterparts, and the plant still makes CKD assembling.
Officials of the Autodiesel PJSC producing YMZ-530 family engines refused to provide any comments.
The actual frustration of the import substitution program is caused by expertise loss in the Russian machine-tool industry, chief editor at the Engine Manufacturing magazine Lev Novikov told Mil.Press Today.
He defined the measures Russian authorities were taking in this area as insufficient and pointed out that in recent decades Russia "has even decreased its rating in terms of high-precision machines production". Thus, Russian industry is not able to perform even such simple operations as engine crankcase boring.
In March 2017,
Mil.Press Today
published an analytical article about current state and perspectives for the Russian machine-tool industry. In particular, it was said in the material that with adequate funding, governmental support and focused R&D efforts, the industry may 'spin off' within 4-6 years.
For reference
YMZ-530 is a family of straight-type 4/6-cylinder diesel and gas engines produced by Autodiesel PJSC (Yaroslavl Motor Plant, member of GAZ Group). The engines have been produced since 1995; batch production started in 2011. Diesel engines of this family are installed on both civil and military hardware, for example, the DT-3PM two-section tracked armored transporter. The vehicle is currently
passing
state trials.