"Currently, the company is being transferred from the municipal ownership to the federal one. This is needed to join the holding", the SAC head engineer Stanislav Tkachiboroda told Mil.Today. He added that one of the reasons for worsening of the company's financial standing was elimination of the repair order for five helicopters of Russia's Ministry of Interior because of the transfer of the rotary-wing aircraft to the newly-founded Federal National Guard.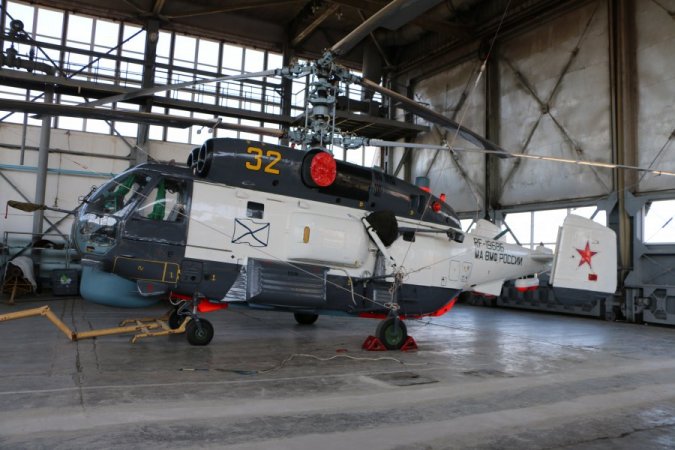 Sevastopol Aircraft Company
Deputy Director for Development Alexander Makarov refuted that information, having commented that the helicopters were at the company's premises undergoing overhaul.
The SAC director Alaxey Tolmachev was inaccessible for comments.
"Today, the Sevastopol Aircraft Company bears the status of the state unitary enterprise, so belongs to Sevastopol. To integrate the enterprise into the holding, it should be transferred to federal ownership. All documents have been prepared and sent to the Ministry of Industry and Trade and the Federal State Property Management", added the SAC chief accountant.
Officials of the Russian Helicopters confirmed the integration of the SAC into the holding, but refrained from detailed comments.
The company's employees themselves told about the falling internal situation.
"We haven't seen the wages for over five months. They don't tell us when they're going to pay. Almost half of the staff quitted during the last year. Due to lack of orders, they made workweeks three-day long", said a company's engineer remaining anonymous. Other employees confirmed his complaints. They said they had faced similar difficulties before, too. For instance, in 2016 the salary was paid only after an official letter to the city attorney. This year the staff plan to repeat the complaint to the municipal supervisory agency.
Directors and working staff of the company have high hopes for the merger into the Russian Helicopters holding. As for them, this would help to get new orders, repay debts and upgrade the machinery in order to repair current and prospective rotary-wing hardware.
According to the analytical system
Kommersant Kartoteka
, the Government of Sevastopol is the sole owner of SAC, having the share of 160 mln rubles. In 2016, the company competed in the tenders of the Southern Customs Department for scheduled maintenance of the Mi-8MTV-1, replacement of the main rotor transmission VR-14 on the similar helicopter, and capital repairs of radio altimeters checkout console PS-11 by the order of the state-led
Universal-Avia
. However, SAC failed all of the tenders.