"Due to gradual decommissioning of Tu-154 airplanes because of natural depreciation and low performance and economic indicators, probability of completion of these aircraft tends to zero. This business sector has no potential for development as the airplane's designers do not plan further retrofitting of Tu-154 project", says the company's annual report.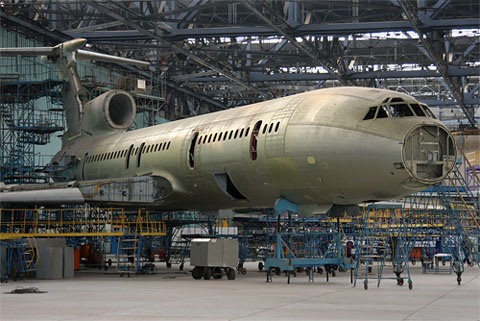 Construction of Tu-154 airplane
According to the Aviacor experts, the governmental authorities will preserve operable about 25 planes for 5-10 years; the company will manage to provide these airplanes with spare parts and capital overhaul services.
The company's management declined to comment that situation for Mil.Today, having referred to the confidentiality issues.
The Aviacor's annual report mentions the possibility "to replace this kind of business with servicing and repairing of other types of aircraft, including imported ones".
"Tu-154 has not exhausted its potential, so it's not the time to decommission it", commented General Alexander Akhlyustin, honored pilot of Russia. As for him, the airplane is leading in its class in terms of reliability of airframe and materials as well as aerodynamic characteristics; it has high-lifted engines and robust landing gear. Speaking of drawbacks, the officer mentioned wasteful engines.
Reports about possible shutting down of production and maintenance of Tu-154 became more frequent after flight accident happened to Russian military Tu-154B-2 airplane crashed on December 25, 2016 near Sochi.
OJSC Aviacor-Aircraft Plant is one of the Russia's largest aircraft-building companies. Its basic activities are construction, repairs, maintenance and supply of components for passenger liners Tu-154 and An-140.
According to informational and analytical system
Kommersant Kartoteka
, the company has authorized capital exceeding a billion rubles. Its management company is Aviacor-Samara Aircraft Plant LLC with authorized capital of 10,000 rubles. In 2013-2017, the company won tenders for repairs and component supplies for Tu-154M, Tu-154B-2 and An-140 aircraft.