According to
Interfax
referring to defense ministry's press service, upon arrival in Syria, Russian military medical staff will administer medical aid to civilians and refugees near Aleppo.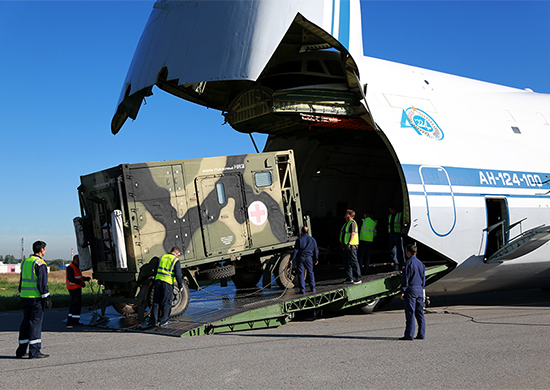 Enplanement of mobile hospital
The planes that set a course for Syria are carrying special-purpose medical hardware and equipment.
The mobile hospital includes an admission unit with an outpatient clinic, a special pediatric unit, a surgery unit, an anaesthesiology and reanimation unit, an X-ray room, a lab diagnostics and special therapy unit.
"Given the specific nature of the Aleppo mission, the special medical task group is backed by pediatric physicians and birth attendants. The mobile hospital is equipped with all kinds of medical facilities", said the Russian military's spokesman.
As was reported the day before, on Nov 29 Syrian troops took control of eastern Aleppo, having cleaned the area inhabited by over 90,000 civilians.