The
Typhoon
rover with jamming equipment, Russian flag, and without military police identifying marks could be at disposal of a Russian officer or a general in charge of settlement of conflicts with American servicemen and locals that regularly happen during the patrol missions, a veteran of the Syrian campaign commented to
Mil.Press
.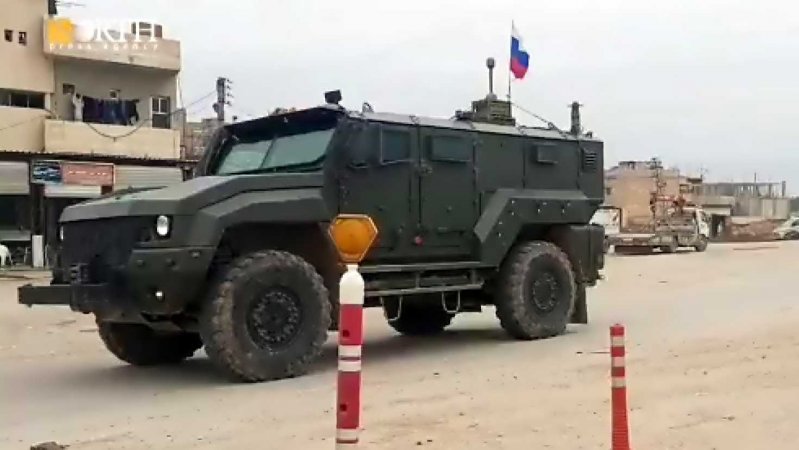 Typhoon K-53949 within the Russian patrol in Tal Tamr
"The MP patrol missions regularly come along with the incidents, luckily, without severe consequences so far. Among them is the Khirbet Amo affair with American military whose convoy stoned by the locals, they tried to set it afire and shoot down; then, the ĎQamishli traffic accidentí, if I can put it this way, where an American armored rover literally pushed the Russian one off the road. Plus, the skirmishes with locals happened to joint Russian/Turkish patrols, where Russian officers exhibited diplomatic talents", shared the interviewee.
As for him, using by the military police of the armored vehicles with higher protection class than
Tiger
or
Rys
rovers demonstrates the concern of the Russian military leaders about safety of the personnel.
The veteran is sure that the wide usage of such vehicles at the earlier stages of the campaign could have saved more lives. For one, it would help to save Valery Fedyanin, Northern Fleetís 61st Marine Brigade Commander, whose rover was blasted by the terrorists in October 2017, as reports the Russian defense ministry.
To recap,
Typhoon K-53949
is a 10-seat frame-based two-axle armored vehicle designed for overall support missions of combined-arms and special-purpose units, including peacekeeping forces, in different operational conditions. It can be used for transportation of personnel and military cargoes, and as a basic chassis for various technical systems and weapons.
In October 2019, it got about that Russia and Uzbekistan signed a large supply contract for these armored vehicles. A colonel from the armour department of Uzbek defense ministry told
Mil.Press
that the armored rovers produced by
Remdiesel
were better suited for his country than the American ones.
Valery Butymov
Have anything to add? Feel free to contact Mil.Press:
+7 (812) 309-8-505, ext. 102
;