"Russian combat vehicles used in Syria like armored rovers
Tiger
or
Rys
have been arrived and, as far as I know, continue to arrive from the factories painted dark green", a serviceman deployed on mission in Syria in 2015 told Mil.Today. According to him, that is extremely embarrassing, as dark green color scales up the risk of being detected by the enemy and simplifies sighting.
ĎPaint-By-Numberí: Why Russians Use Green-Colored Hardware in Syrian Deserts
Another serviceman, an officer served in Syria in 2016, confirmed that point. "We were on mission in the east Homs near Palmyra", he told Mil.Today. There were bare deserts, few landmarks and the daylong sunshine, so dark spots of equipment were perfect targets". He refused to specify whether the dark green vehicles were under fire more frequently or whether that led to increased casualties.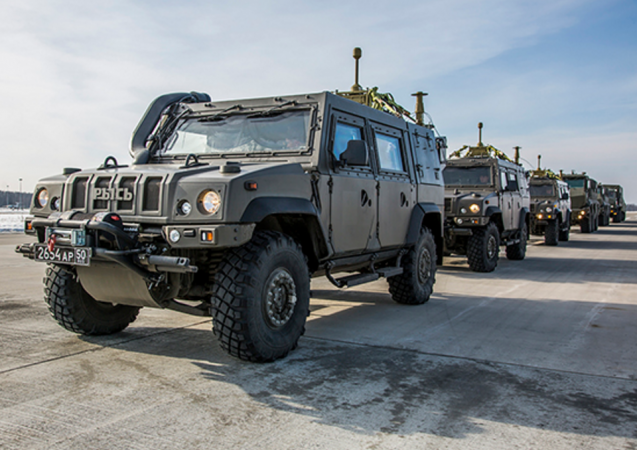 Armored vehicle Rys of the International Antimine Centerís unit of the Russian Armed Forces demined Palmyra in March 2017
Russian Defense Ministryís press service
In the falls of 2015, during the Palmyra offensive, the military had to camouflage hardware on their own, added the officer.
"We used the Syrian-style masking, when you spread clay and sand mixture over the armor. Sometimes they just painted vehicles at repair shops with brushes or spray, sometimes even in the field", said the vet.
Alexander Kots, a Russian military reporter, recalled that while working in the desert near Palmyra and at the edge of Rakka province his camera crew masked the filmmaking car, a white pickup, in Syrian way. "We daubed the jeep with muddy water by a broom, and then dried in the sun. Hundred meters away, such car looks like a sand hill", says Kots.
Another Russian war correspondent Andrey Filatov who had been working in Syria for many years said the Syrian military used two basic colors for hardware painting, yellow and green.
"The first one is used for desert areas, and the second one is for woods", explains Filatov. "However, when Syrians redeploy troops from one theater to another, the sand-painted tanks may happen in the woodlands and the other way round". He added that military vehicles must be camouflaged by blurring the silhouette to prevent the enemy taking aim.
How to Paint Military Vehicles for Desert-Use
An insider in the Russian Defense Ministry told Mil.Today that our army employs the up-to-date military camouflage techniques. He failed to explain, however, why dark green machines still crisscross Syrian deserts.
"There is an array of relevant literature on that subject, different types of preparation of military hardware for any landscape, a variety of standards for glaring, color and lighting", said the interviewee. "Vehicles are tested by engineering troops. There is a system of regulations and its implementation procedures". He added that camouflage matters are secret and was surprised that not every Russian combat vehicle is adapted for Syrian desert.
In 1989, the Soviet Defense Ministry published the 'Sample Book of Distortive Painting for Military Hardware'. In its Part 4, there were camouflage samples for automotive vehicles, including those for desert conditions. "The distortive painting represents differently shaped multicolored stains simulating the terrain background", said the book.
For deserts and prairies, the combat vehicles must be painted with stains of two colors (basic and additional ones in the 80/20 proportion), the most typical for surrounding terrain. It was recommended to use "ready-made industrially manufactured enamels". Basic color for desert and prairie landscapes is the yellow-gray (KhS-5146 series enamel).
According to the album, the distortive painting of the military hardware must be performed by manufacturing factories, military units or repair workshops.
Sergey Suvorov, press secretary at the Military Industrial Company producing the
Tiger
armored rovers, told Mil.Today that the factory might paint the cars for any conditions, depending on the customerís demands. Speaking on the camouflage issue in Syria, he advised to address to defense authorities.
Mil.Today sent a corresponding inquiry to the Russian Defense Ministry, though has not received a reply yet.
Experts: Dark Green Cars in Desert is a Drawback
Being interviewed by Mil.Today, an ex-director of the Tank Automotive Directorate Gen. Sergey Mayev said the distortive painting in desert is essential.
"Today terrorists have drones, thermal sights and infrared monitoring systems. Handmade painting is not enough, as the point is not just enameling, modern paints feature other protective properties, too", said the general.
The officer added that Syrians had to mask their tanks on their own, since in 70ís, when the USSR massively supplied Syria with armored vehicles, there was no clear concept about camouflage painting. All machines were single-toned, painted standard dark green color. The need for masking emerged during the Afghan War. By 1990, Soviet military hardware was repainted to meet the new standards.
To Mayev, the camouflage issue in Syria resembled painting of Soviet tanks with white lead in winter time during the World War II. Alongside with that, he called to avoid exaggerating the problem.
General Vladislav Polonsky heading the Tank Automotive Directorate in 2004-2007 told Mil.Today that the staffs must give instructions as of repainting equipment for certain conditions in advance. "Armor vehicles must be definitely prepared for desert", he stressed.